Janet Reno (First Female U.S. Attorney General)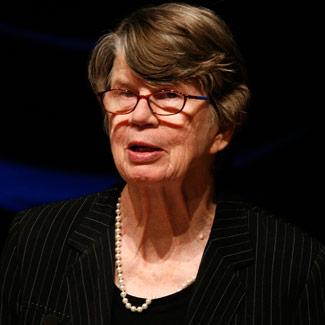 Janet Wood Reno (born July 21, 1938) is a former Attorney General of the United States (1993–2001). She was nominated by President Bill Clinton on February 11, 1993, and confirmed on March 11.
She was the first female Attorney General and the second longest serving Attorney General after William Wirt.
Reno's father, Henry Olaf Reno (original surname Rasmussen), emigrated to the United States from Denmark and for forty-three years was a police reporter for the Miami Herald.
Jane Wallace (née Wood), Reno's mother, raised her children and then became an investigative reporter for the Miami News. Janet Reno has three younger siblings. Reno attended public school in Miami-Dade County, Florida, where she was a debating champion and was valedictorian at Coral Gables High School. In 1956, Reno enrolled at Cornell University in Ithaca, New York, where she majored in chemistry, lived in Balch Hall, became president of the Women's Self-Government Association, and earned her room and board.
Reno was named staff director of the Judiciary Committee of the Florida House of Representatives in 1971. She helped revise the Florida court system. In 1973, she accepted a position with the Dade County State's Attorney's Office. She left the state's attorney's office in 1976 to become a partner in a private law firm.
In 1978, Reno was appointed State Attorney for Dade County (now called Miami-Dade County). She was elected to the Office of State Attorney in November 1978 and was returned to office by the voters four more times. During this time, allegations about Reno's sexual orientation became a major part of Republican opposition, due to Jack Thompson's campaign against her.
In 1993, Reno was nominated and confirmed as the first female Attorney General under Bill Clinton, after both of his previous choices, Zoe Baird and Kimba Wood, had problems when it was revealed both had previously employed illegal immigrants as nannies. Reno remained Attorney General for the rest of Clinton's presidency, making her the longest-serving Attorney General since William Wirt in 1829.
While Clinton could steer a middle ground between his Democratic supporters and the Republican Congress on monetary issues, Reno's job was at the center of a variety of intractable cultural conflicts. This made her a lightning rod for criticism of the Clinton Administration from activists who often denounced the federal government as a threat to their fundamental freedoms.
Reno ran for Governor of Florida in 2002, but lost in the Democratic primary to Bill McBride. Voting problems arose in the election, and she did not concede defeat until a week later. She has since retired from public life but frequently makes guest appearances for Democratic and other political causes.
After her tenure as attorney general and her unsuccessful gubernatorial election bid, Reno tours the country giving speeches on topics relating to the criminal justice system. For example, on March 31, 2006, she spoke at a criminology conference held at the University of Pennsylvania. At this conference, she stated that she believes that the education system in the United States needs to be improved, as there is a link between the quality of education and the crime rate.
She also believes that too much money has been diverted away from the juvenile court system and believes that the government should find some way to make the juvenile courts work effectively so as to prevent problems in troubled children and adolescents before these problems are exacerbated by the time these adolescents reach adulthood.
In 2001, Reno appeared alongside Will Ferrell on Saturday Night Live in the final installment of the recurring sketch "Janet Reno's Dance Party". In another television appearance, on a 2007 Super Bowl XLI TV commercial, Janet Reno was among the guests at Chad Ochocinco's Super Bowl party.
Reno is also curating a compilation of old-time American songs performed by contemporary artists called the Song of America.
Reno also serves on the Board of Directors for the Innocence Project, a nonprofit organization which assists prisoners who could be exonerated through DNA testing.
In March 2008, Reno received the Council on Litigation Management's Professionalism Award, which recognizes and commemorates an individual who has demonstrated the unique ability to lead others by example in the highest standard of their profession.
On April 17, 2009, Reno was awarded the Justice Award by the American Judicature Society. Eric Holder, Attorney General under the Obama Administration, presented Reno the award. Seth Andersen, Executive Vice President of AJS said the award recognizes "her commitment to improving our systems of justice and educating Americans about our great common enterprise -- to ensure equality under the law." The award is the highest given by the AJS, and recognizes significant contributions toward improvements in the administration of justice within the United States.
Related Links:
Janet Reno on Wikipedia