Janet Gertrude Palmer (Poet/Literary Critic)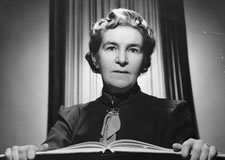 Janet Gertrude "Nettie" Palmer (née Higgins) (18 August 1885 - 19 October 1964) was a poet, essayist and Australia's leading literary critic.
She did more to promote Australian literature by women than anyone else of her generation.
Nettie Higgins was born in Bendigo, Victoria, the niece of H.B. Higgins, a leading Victorian radical political figure...
...and later a federal minister and justice of the High Court of Australia.
A brilliant scholar and linguist, she was educated at the Presbyterian Ladies' College, Melbourne, the University of Melbourne and studied phonetics in Germany and France for the International Diploma of Phonetics.
She was active in literary and socialist circles on her return to Melbourne and formed a deep and long term relationship with the visionary poet Bernard O'Dowd.
Both Nettie and husband Vance are significant figures in Australian intellectual, literary and cultural history.
Indeed, Nettie Palmer was the most important non-academic critic working in Australia in the interwar period while Vance Palmer was acclaimed in 1959 by Clem Christesen, editor of the literary journal Meanjin, as "the most distinguished man of letters Australia has so far produced."