Janet Echelman (Public Installation Artist)
Susan notes: Felisa Wolfe-Simon is one of 15 amazing women on stage at #TED2011. We're working hard to get TED to work harder on gender parity. ADD YOUR VOICE HERE.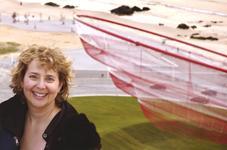 Janet Echelman is an American artist specializing in public art installations and sculpture.
She graduated from Harvard University in 1987 with Highest Honors in Visual Studies. From 1988-1993 Echelman lived and worked in Bali, Indonesia before returning to America.
She created her first permanent installation, She Changes, in 2005 in Porto, Portugal. According to Sculpture Magazine, her work in Portugal charts "a bold new direction for sculpture" and is "one of the truly significant public artworks in recent years."
Her art has been presented in Spain, Italy, Portugal, Lithuania, India, Japan, Indonesia, Hong Kong, Canada, Mexico, and the US.
She graduated from Harvard College and completed graduate degrees in psychology and painting. She is self-taught in sculpture.
A recipient of awards from the New York Foundation for the Arts, Pollock- Krasner Foundation, Japan Foundation, Rotary International Foundation, Harvard Graduate School of Design Loeb Fellowship, Aspen Institute Henry Crown Fellowship, the American Academy in Rome, and a Fulbright Senior Lectureship, she currently serves on the national boards of the U.S. Fulbright Association and the Aspen Institute Energy and Environment Awards.
Related Links:
Jane Echelman Website
Twitter
Facebook
Linkedin
15 Trailblazers Take The Stage (And A Feminist's Guide To TED 2011)
AWR TED Talks By Amazing TED Women
Let's Take TEDxActionNow On Gender Parity
TEDWomen A Resounding Success! Or Was It?
Reboot To The Power Of Seven: The Amazing Women Of TEDxDubai 2010
A Dream Come True: 18 Amazing Girls & Young Women Make TED History
Advocating for Inclusion: A roundup of ideas from post-TEDx636 roundtable
Speak Up, Speak Out, Take The Stage: The World Needs More TED Women
Does the world need TEDWomen?
Separate Still Isn't Equal: Sexism Among TED Conferences
TEDWomen: Brilliant or Belittling?
Related Articles