Jane Jacobs (Writer/Urbanist/Activist)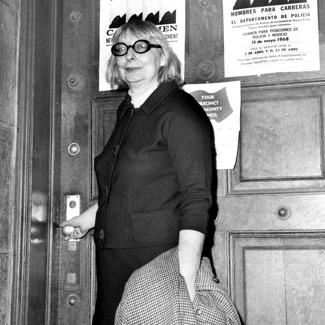 Jane Jacobs, OC, O.Ont (May 4, 1916 – April 25, 2006) was an American-born Canadian writer and activist with primary interest in communities and urban planning and decay. She is best known for The Death and Life of Great American Cities (1961), a powerful critique of the urban renewal policies of the 1950s in the United States. The book has been credited with reaching beyond planning issues to influence the spirit of the times.
Along with her well-known printed works, Jacobs is equally well-known for organizing grassroots efforts to block urban-renewal projects that would have destroyed local neighborhoods. She was instrumental in the eventual cancellation of the Lower Manhattan Expressway, and after moving to Canada in 1968, equally influential in canceling the Spadina Expressway and the associated network of highways under construction.
Jane Butzner was born in Scranton, Pennsylvania, the daughter of a doctor and a former teacher and nurse, who were Protestant in a Catholic town—adherents of a minority religion. After graduating from Scranton's Central High School, she took an unpaid position as the assistant to the women's page editor at the Scranton Tribune. A year later, in the middle of the Great Depression, she left Scranton for New York City.
During her first several years in the city, Jacobs held a variety of jobs, working mainly as a stenographer and freelance writer, often writing about working districts in the city. These experiences, she later said, "… gave me more of a notion of what was going on in the city and what business was like, what work was like." Her first job was for a trade magazine, first as a secretary, then as an editor. She also sold articles to the Sunday Herald Tribune. She then became a feature writer for the Office of War Information. While working there she met an architect named Robert Hyde Jacobs whom she married in 1944. Together they had two sons and a daughter.
She studied at Columbia University's extension school (now the School of General Studies) for two years, taking courses in geology, zoology, law, political science, and economics. About the freedom to study her wide-ranging interests, she said:
"For the first time I liked school and for the first time I made good marks. This was almost my undoing because after I had garnered, statistically, a certain number of credits I became the property of Barnard College at Columbia, and once I was the property of Barnard I had to take, it seemed, what Barnard wanted me to take, not what I wanted to learn. Fortunately my high-school marks had been so bad that Barnard decided I could not belong to it and I was therefore allowed to continue getting an education."
On March 25, 1952, Jacobs responded to Conrad E. Snow, chairman of the Loyalty Security Board at the United States Department of State. In her foreword to her answer she said:
"The other threat to the security of our tradition, I believe, lies at home. It is the current fear of radical ideas and of people who propound them. I do not agree with the extremists of either the left or the right, but I think they should be allowed to speak and to publish, both because they themselves have, and ought to have, rights, and once their rights are gone, the rights of the rest of us are hardly safe …"
Opposing expressways and supporting neighborhoods were common themes in her life. In 1962, she was the chairperson of the "Joint Committee to Stop the Lower Manhattan Expressway", when the downtown expressway plan was killed. She was again involved in stopping the Lower Manhattan Expressway and was arrested during a demonstration on April 10, 1968.
Jacobs opposed Robert Moses, who had already forced through the Cross-Bronx Expressway and other roadways against neighborhood opposition. A late 1990s Public Broadcasting Service (PBS) documentary series on New York's history devoted a full hour of its fourteen-hours to the battle between Moses and Jacobs, although Robert Caro's highly critical biography of Moses, The Power Broker, gives only passing mention to this event, despite Jacobs's strong influence on Caro.
Related Links:
Jane Jacobs on Wikipedia
The Power of Jane Jacobs