Jane Fonda (Actress/Writer/Political Activist/Fitness Guru)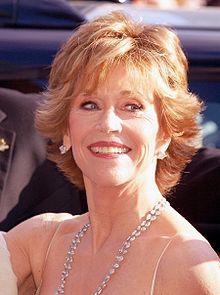 Jane Fonda (born December 21, 1937) is an American actress, writer, political activist, former fashion model, and fitness guru.
She rose to fame in the 1960s with films such as Barbarella and Cat Ballou. She has won two Academy Awards and received several other awards and nominations.
After 15 years of retirement, she returned to film in 2005 with Monster in Law followed by Georgia Rule two years later. She also produced and starred in several exercise videos released between 1982 and 1995.
Fonda has been an activist for many political causes, one of the most notable and controversial of which was her opposition to the Vietnam War. She has also protested the Iraq War and violence against women. She describes herself as a liberal and a feminist.
In 2005, Fonda worked alongside Robin Morgan and Gloria Steinem to co-found the Women's Media Center, an organization that works to amplify the voices of women in the media through advocacy, media and leadership trainining, and the creation of original content. Fonda currently serves on the board of the organization. Since 2001, Fonda has been a Christian. She published an autobiography in 2005.
Fonda was born in New York City, the daughter of actor Henry Fonda and socialite Frances Ford Seymour, and named Lady Jayne Seymour Fonda. Henry Fonda had distant Dutch ancestry, and the surname Fonda originates from Eagum, also spelled Augum or Agum, a village in the heart of Friesland, a northern province of the Netherlands.
The "Lady" part of Jane Fonda's name was apparently inspired by Lady Jane Seymour, to whom she is distantly related on her mother's side. Her brother, Peter Fonda (born 1940), and her niece Bridget Fonda (born 1964), are also actors. Fonda had a half sister, Frances, who died in 2008. She is the mother of Vanessa Vadim from her marriage to Roger Vadim and Troy Garity from her marriage to Tom Hayden.
On April 14, 1950, her mother committed suicide after which Jane voluntarily sought treatment at a psychiatric hospital. Her father subsequently married Susan Blanchard, but this marriage ended in divorce. At 15, Fonda taught dance at Fire Island Pines, New York. She attended Greenwich Academy in Greenwich, Connecticut.
Before starting her acting career, Fonda was a fashion model, gracing the cover of Vogue twice. Fonda became interested in acting in 1954, while appearing with her father in a charity performance of The Country Girl, at the Omaha Community Playhouse. She attended The Emma Willard School in Troy, New York, and Vassar College in Poughkeepsie, where she was an undistinguished student.
She recalled that at the age of five, she and her brother, actor Peter Fonda, acted out Western stories similar to those her father, Henry Fonda, played in the movies. After graduating from Vassar she went to Paris for two years to study art.
Upon returning, she met Lee Strasberg and the meeting changed the course of her life, Fonda saying, "I went to the Actor's Studio and Lee Strasberg told me I had talent. Real talent. It was the first time that anyone, except my father—who had to say so—told me I was good. At anything. It was a turning point in my life. I went to bed thinking about acting. I woke up thinking about acting. It was like the roof had come off my life!"
Her stage work in the late 1950s laid the foundation for her film career in the 1960s. She averaged almost two movies a year throughout the decade, starting in 1960 with Tall Story, in which she recreated one of her Broadway roles as a college cheerleader pursuing a basketball star, played by Anthony Perkins. Period of Adjustment and Walk on the Wild Side followed in 1962. In Walk on the Wild Side, Fonda played a prostitute, and earned a Golden Globe for Most Promising Newcomer.
In 1963, she appeared in Sunday in New York. Newsday called her "the loveliest and most gifted of all our new young actresses". However, she also had her detractors—in the same year, the Harvard Lampoon named her the "Year's Worst Actress". Fonda's career breakthrough came with Cat Ballou (1965), in which she played a schoolmarm turned outlaw.
This comedy Western received five Oscar nominations and was one of the year's top ten films at the box office. It was considered by many to have been the film that brought Fonda to stardom at the age of twenty-eight. After this came the comedies Any Wednesday (1966) and Barefoot in the Park (1967), the latter co-starring Robert Redford.
In 1968, she played the lead role in the science fiction spoof Barbarella, which established her status as a sex symbol. In contrast, the tragedy They Shoot Horses, Don't They? (1969) won her critical acclaim, and she earned her first Oscar nomination for the role. Fonda was very selective by the end of the 1960s, turning down lead roles in Rosemary's Baby and Bonnie and Clyde.
Fonda won her first Academy Award for Best Actress in 1971, again playing a prostitute, the gamine Bree Daniels, in the murder mystery Klute. She won her second Oscar in 1978 for Coming Home, the story of a disabled Vietnam War veteran's difficulty in re-entering civilian life.
Between Klute in 1971 and Fun With Dick and Jane in 1977, Fonda did not have a major film success, even though she appeared in films such as A Doll's House (1973), Steelyard Blues and The Blue Bird (1976). From comments ascribed to her in interviews, some have inferred that she personally blamed the situation on anger at her outspoken political views – "I can't say I was blacklisted, but I was greylisted."
However, in her 2005 autobiography, My Life So Far, she categorically rejected such simplification. "The suggestion is that because of my actions against the war my career had been destroyed ... But the truth is that my career, far from being destroyed after the war, flourished with a vigor it had not previously enjoyed."
From her own point of view, her absence from the silver screen was related more to the fact that her political activism provided a new focus in her life. By the same token her return to acting with a series of 'issue-driven' films was a reflection of this new focus. "When I hear admonitions ... warning outspoken actors to remember 'what happened to Jane Fonda back in the seventies', this has me scratching my head: And what would that be...?"
In 1972, Fonda starred as a reporter alongside Yves Montand in Jean-Luc Godard's and Jean-Pierre Gorin's film Tout va bien. The film's directors then made Letter to Jane, in which the two spent nearly an hour discussing a news photograph of Fonda.
Through her production company, IPC Films, she produced films that helped return her to star status. The 1977 comedy film Fun With Dick and Jane is generally considered her "comeback" picture. She also received positive reviews, BAFTA and Golden Globe Awards for Best Actress, and an Oscar nomination for her portrayal of playwright Lillian Hellman in the 1977 film Julia.
During this period, Fonda announced that she would make films only that focused on important issues, and she generally stuck to her word. She turned down An Unmarried Woman because she felt the part was not relevant. She followed with popular and successful films such as The China Syndrome (1979), about a cover-up of an accident in a nuclear power plant; and The Electric Horseman (1979) with her previous co-star, Robert Redford.
In 1980, Fonda starred in Nine to Five with Lily Tomlin and Dolly Parton. The film was a critical and box office success. Fonda had long wanted to work with her father, hoping it would help their strained relationship. She achieved this goal when she purchased the screen rights to the play On Golden Pond specifically for her father and herself. On Golden Pond, which also starred Katharine Hepburn, brought Henry Fonda his only Academy Award for Best Actor, which Jane accepted on his behalf, as he was ill and home bound. He died five months later.
Fonda continued appearing in feature films throughout the 1980s, most notably in the role of Dr. Martha Livingston in Agnes of God. She was nominated for the Academy Award for Best Actress for her portrayal of an alcoholic murder suspect in the 1986 thriller The Morning After. She ended the decade by appearing in Old Gringo. This was followed by the romantic drama Stanley & Iris (1990), which would be her final film for 15 years.
For many years, Fonda was a ballet enthusiast, but after fracturing her foot while filming The China Syndrome she was no longer able to participate. To compensate, she began actively participating in aerobics and strengthening exercises under the direction of Leni Cazden. The Leni Workout became the Jane Fonda Workout and thus began a second career for her, which continued for many years. This was considered one of the influences that started the fitness craze among baby boomers who were then approaching middle age.
In 1982, Fonda released her first exercise video, titled Jane Fonda's Workout, inspired by her best-selling book, Jane Fonda's Workout Book. The Jane Fonda's Workout video eventually sold 17 million copies: more than any other home video. The video's release led many people to buy the then-new VCR in order to watch and perform the workout in the privacy and convenience of their own homes. Fonda subsequently released 23 workout videos, five workout books and thirteen audio programs. Her most recent workout video was released in 1995.
Related Articles