Jacqueline Frazier-Lyde (Lawyer/Boxer)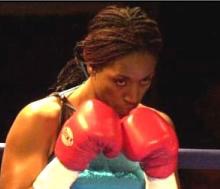 Jacqui Frazier-Lyde is an American lawyer and mother of three.

But her claims to fame are: 1) her decision in the year 2000, at the age of 38, to become a professional boxer, and 2) her determination to then go on to become a champion.

Though astounding due to her age, these feats are perhaps not as surprising viewed in the context of her lineage and abilities.

One of former world heavyweight boxing champion Joe Frazier's 11 children, Frazier-Lyde excelled academically and athletically from an early age. She was class president at Plymouth-Whitemarsh High in Philadelphia, where she competed in basketball, hockey, softball and lacrosse.

She won an athletic scholarship to American University, and began her studies as a chemistry major. She switched into law at Villanova University, from which she graduated in 1988. After working as a public defender and in property law, she went on to open her own criminal law practice.

Frazier-Lyde was likely an avid follower of the women's boxing boom, which occurred during the 1990s and coincided with the rise in professional women's sports leagues such as the
Women's National Basketball Association
and the
Women's United Soccer Association
. Women boxers such as
Stephanie Jaramillo
Delia 'Chikita' Gonzalez
,
Laura Serrano
,
Christy Martin
,
Deirdre Gogarty
,
Laila Ali
,
Lucia Rijker
,
Ada Velez
,
Ivonne Caples
,
Bonnie Canino
and
Sumya Anani
,, all world champions, jumped into the scene during that time.
She is said to have been particularly inspired by rival Laila Ali's participation in the sport, and eager to avenge the losses her father suffered at the hands of Ali's father, Muhammad Ali in two of their three fights.
Whatever the drivers, Frazier-Lyde began her career on February 6, 2000, knocking out 19-year-old Teela Reese, almost 20 years her junior and 11 pounds heavier, in one round.
Less than 18 months later, in June 2001, Frazier-Lyde and Ali starred on the first Pay Per View boxing card ever to be headlined by women. The bout, nicknamed Ali-Frazier IV by the media (based on their legendary fathers' trilogy of matches), was boxed to headline that year's International Boxing Hall Of Fame induction ceremonies.
At 8-0 and 7-0 respectively, Ali's and Frazier-Lyde' records matched closely. Ali won the bout, described thus by the
Women Boxing Archive Network
:
"…the generational "grudge match" turned out to be a toe-to-toe slugfest as Frazier- Lyde (164 lbs) rose to the occasion of her first tough fight and took Ali (160¾ lbs) all the way to a majority decision in an entertaining eight-rounder."

Frazier-Lyde went on to win the Women's International Boxing Association light heavyweight title later that year, and in 2004 took the Universal Boxing Assocation's World Heavyweight title with a ten-round unanimous decision over Mary Ann Almager.
Frazier-Lyde has since retired from professional boxing.
Related links:
Frazier-Lyde (Wikipedia)
Women Boxing Archive Network
Women's Boxing (Wikipedia)