Isabel Behncke on How Bonobo Ape Society Learns From Play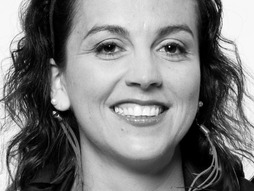 With never-before-seen video, primatologist Isabel Behncke Izquierdo (a TED Fellow) shows how bonobo ape society learns from constantly playing -- solo, with friends, even as a prelude to sex.
Indeed, play appears to be the bonobos' key to problem-solving and avoiding conflict. If it works for our close cousins, why not for us?
TED Fellow Isabel Behncke Izquierdo studies the social behavior (and play behavior in particular) of wild bonobos in DR Congo.
TED Fellow Isabel Behncke Izquierdo writes: I was born and raised in Chile, and was educated in animal behaviour and evolutionary anthropology in Cambridge and Oxford.
For my PhD work, I study the social behaviour (and play behaviour in particular) of wild bonobos in DR Congo.
Bonobos are, together with chimpanzees, our living closest relatives; however we know very little about them -- mostly through captive work.
In Wamba, a most remote jungle location, I have observed unique aspects of bonobo lives (from imaginary play and laughter to inter-group encounters to accidents and death) that challenge and illuminate our understanding of human evolution.
I aim to link the play of adult bonobos to insights on human laughter, joy, creativity and our capacity for wonder and exploration.
Susan notes: Thanks to TED for making TED Talks downloadable and embeddable, and for providing the biographical information that goes along with them.
Related Articles