Irom Chanu Sharmila (Activist/Poet)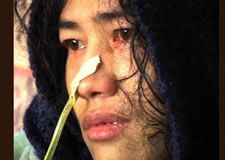 Irom Sharmila Chanu (born March 14, 1972), also known as the "Iron Lady of Manipur" or "Menghoubi" ("the fair one"), is a civil rights activist, political activist, and poet from the Indian state of Manipur.
Since November 2000, she has been on hunger strike to demand that the Indian government repeal the Armed Forces (Special Powers) Act, 1958 (AFSPA), which she blames for violence in Manipur and other parts of India's northeast.
Having refused food and water for 11 years, she has been called "the world's longest hunger striker." Here's a September 2011 background report:
In November 2011, she began the 12th year of her fast as reported here:
On November 2, 2000, in Malom, a town in the Imphal Valley of Manipur, ten civilians were allegedly shot and killed by the Assam Rifles, one of the Indian Paramilitary forces operating in the state, while waiting at a bus stop.
The incident later came to be known to activists as the "Malom Massacre". The next day's local newspapers published graphic pictures of the dead bodies, including one of a 62-year old woman, Leisangbam Ibetomi, and 18-year old Sinam Chandramani, a 1988 National Child Bravery Award winner.
Sharmila, the 28-year-old daughter of a Grade IV veterinary worker, began to fast in protest of the killings, taking neither food nor water. As her brother Irom Singhajit Singh recalled, "The killings took place on 2 November, 2000. It was a Thursday.
Sharmila used to fast on Thursdays since she was a child. That day she was fasting too. She has just continued with her fast". 4th November is also given as the start day of her fast. On the Friday third of November she has a last supper of pastries and sweet things then she touches her mother's feet and asks permission to fulfill her bounden duty.
Her primary demand to the Indian government was the repeal of the AFSPA, which allowed soldiers to indefinitely detain any citizen on suspicion of being a rebel. The act has been blamed by opposition and human rights groups for permitting torture, forced disappearances, and extrajudicial executions.
Three days after she began her strike, she was arrested by the police and charged with an "attempt to commit suicide", which is unlawful under section 309 of the Indian Penal Code, and was later transferred to judicial custody.
Her health deteriorated rapidly, and the police then forcibly had to use nasogastric intubation in order to keep her alive while under arrest. Since then, Irom Sharmila has been regularly released and re-arrested every year since under IPC section 309, a person who "attempts to commit suicide" is punishable "with simple imprisonment for a term which may extend to one year [or with fine, or with both]".
By 2004, Sharmila had become an "icon of public resistance". Following her procedural release On October 2, 2006, for around four months, Irom Sharmila Chanu went to Raj Ghat, New Delhi, which she said was "to pay floral tribute to my idol, Mahatma Gandhi."
Later that evening, Sharmila headed for Jantar Mantar for a protest demonstration where she was joined by students, human rights activists and other concerned citizens.
On 6 October, she was re-arrested by the Delhi police for attempting suicide and was taken to the All India Institute of Medical Sciences, where she wrote letters to the Prime Minister, President, and Home Minister.
At this time, she met and won the support of Nobel-laureate Shirin Ebadi, the Nobel Laureate and human rights activist, who promised to take up Sharmila's cause at the United Nations Human Rights Council.
On August 23, 2011, Sharmila was involved in the wave of Anti-corruption movement on invitation by Anna Hazare via letter.
Sharmila was nominated to the 2005 Nobel Peace Prize by a Guwahati-based woman's organization, the North East Network.
She was awarded the 2007 Gwangju Prize for Human Rights, which is given for "an outstanding person or group, active in the promotion and advocacy of Peace, Democracy and Human Rights".
She shared the award with Lenin Raghuvanshi of People's Vigilance Committee on Human Rights, a northeastern Indian human rights organization. In Addition the largest monetary prize the first Rabindranath Tagore Peace Prize was given to her in 2010 by the New Delhi IIPM.
She was awarded the Sarva Gunah Sampannah '" Award for Peace and Harmony" aka the 12th Signature Women of Substance award (Assam) also in 2010. 2009 she was awarded the first Mayillama Award (Kerala).
And in 2010 in the presence of the Law Minister Sri V Moilly in Bangalore she was awarded in absentia a lifetime achievement award. She was most recently awarded an Adivasi Ratna award accepted by her brother.
On 28 November 2010, UK Green Party leader and European Parliament member Keith Taylor wrote to the Indian government seeking the release of Sharmila and the repeal of the AFSPA.
Her main supporter in the European Union is Sir Graham Watson KB MEP chair of the India/EU delegation of MEPs. He has consistently made interventions on her behalf most recently to Dr J Bhagwati Indian Ambassador to the EU who responded on 1 July 2011 to his request to respond to the death threats made against Irom Sharmila.
Indian Ambassadors reference BRU/AMB/48/2011 Embassy of India, 1050 Brussels. He responds only that he understands that Irom Sharmila is a hunger striker and that the modification of AF(SP)A is under consideration.
Previously in April 2011 Sri Graham Watson and the EU delegation had tried to visit Manipur but were not allowed to do so by the Indian Authorities. They visit each year this year they were allowed to visit, Delhi, Patna and Mumbai.
Although Keith Taylor did write three letters on one occasion he has never responded to further input. Sri Graham Watson and other members of the EU delegation do always respond to further requests for help.
For example a Dutch member of the India EU delegation Peter Van Dalen whose special interest group is Dalit and subaltern groups released this press statement for publication at the gathering at her tenth anniversary of fasting in November 2010 Smt Sharon Bowles MEP sent Sharmila a personal letter of support which is now with Sharmila.
She had added her personal regret that Sharmila was not nominated for the Sakharov last year due to insufficient support from other MEPs a nomination requires at least 40 MEP signatories. This year's nominations close on 13 September 2010. Another MEP member of the EU/India Delegation has stated that he does not believe Sharmila will be nominated this year either as very few MEPs know of her or Manipur.
The European MEPs were initially brought in by one of her Western campaigners Nicholas Crawford a philosophy student at Gonville & Caius College, Cambridge. He also chairs a small student think tank. The Wilberforce Society.
At the annual garden party Mr Crawford gave a speech about Irom Sharmila and the AFSPA in attendance was their patron Lord Wilson, a former head of the civil service, and Sir Christopher Hum, former UK ambassador to China.
Before Xmas they hope to have a seminar on India and Human Rights. And plan to visit Manipur and Sharmila next summer. Sharmila has many letters from offices of Western Dignatories including those of HM Queen Elizabeth II, The Duchess of Cornwall, The President of Eire, Tony Blair and most recently the Scottish First Minister and the Mayor of London all stating that they are sorry about her circumstances but are unable to offer her any assistance.
But she has always cared more about genuine letters seeking to make connections. The only campaign that has the endorsement of her office is https://kanglaonline.com/2011/06/facebook-event-write-to-irom-sharmila-chanu/ the one asking inviduals to write to her snail mail only, emails have never been forwarded to her.
In Turkey 8-11 December 2010 The Which Human Rights Festival organized by the Turkish Human Rights Group the Documentarist was dedicated to Irom Sharmila
She has written a lot of poetry most recently a 12 poem bilingual anthology (Meiteilol and English), "Fragrance of Peace" (Nungsigi Leinam), was released by Zubaan books to coincide with the tenth year of her detention, with profits used to support her cause.
This appears to have been a project first suggested by Norwegian designer Mr Lars Muller, who was appointed in December 2007 by the World Organization against Torture OMCT as her 'Defending the Defenders' sponsor.
Related Articles