Iranian Woman Ski Olympian Trains On Grassy Slopes In Summer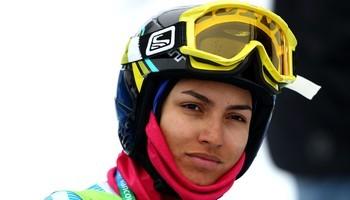 Skiing down a grassy mountain in the middle of summer is not the only unusual thing about Marjan Kalhor. She is also an Olympic competitor -- a rare thing for a woman in a male-dominated sport in Iran.
Two hours' drive from Tehran, Dizin's hotel and many flashy chalets cater for skiers and the many winter visitors who want to escape the bustle and pollution of the capital.
But in summer, when temperatures in the city are often well above 40 C (104 F), it remains a training ground for people, like Kalhor, who have devoted much of their lives to the sport.
It is also the home town of the 22-year-old who this year became the first woman skier to represent Iran in a Winter Olympics.
Warming up to whiz down the grassy slope, Kalhor told Reuters she loves her career as a skier despite the fact that, like many Iranian athletes, she receives no financial backing.
"During the Olympics I hurt my knees, but no one even bothered to call and ask how I was doing? I myself paid the whole costs."
A male colleague, Mahdi Solghani, agreed that life is tough for Iranian athletes, men or women.
"Inviting me to the camps for exercising was the only thing that the (Iranian skiing) federation has done for me ... Although I am a double medal winner, this year I myself bought all my gear which is worth 4 million tomans (2,600 pounds). Passion is the only reason that brings me here, but there is no income."
Financial problems and a lack of sponsors are not Mahdi's only problems. He also has to serve military service -- obligatory for men in Iran -- next year.
For Kalhor the obstacles have been different.
In a country where women are not allowed to watch men play soccer and where women players wear head-to-toe clothing and have to cover their hair in accordance with Islamic law, skiing was once a taboo for women.
Kalhor says attitudes have changed and there are now no restrictions.
"In the past there was a very negative attitude towards a woman who skied in Iran, but time passed and women could prove they had something to say and could be successful."
Click here to read the full story:
By Ramin Mostafavi
Reuters
Photo credit:
Getty Images
Related links:
More About Iran on AWR