Iranian Skier Realises Dream: Participating In Winter Olympic Games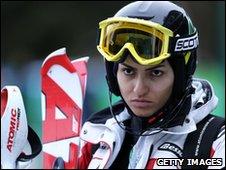 The first Iranian woman to take part in the Winter Olympics says she hopes she will be able to inspire Muslim women all over the world to get involved in sport.
Marjan Kalhor has overcome conservative opposition to her participation in the games by wearing a headscarf under her skiing helmet.
High in the Alborz mountains north of the sprawling city of Tehran lies Dizin, the centre of the country's skiing industry.
Although skiing is popular in Iran, a lack of investment in the resort has left it with outdated ski lifts and little modern skiing infrastructure.
But that hasn't stopped the rise to fame of Ms Kalhor - who has already made history.
This week the 21-year-old is thousands of miles away in Vancouver preparing for her debut in the Winter Olympics.
Click here to read the full story:
BBC News
Photo credit:
BBC News
Related links:
More About Iran On AWR