Iranian Lionesses Continue To Fight For Rights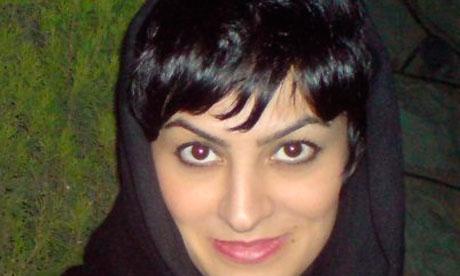 From the mother sentenced to death by stoning to the lawyer arrested for defending opposition activists, women are prominent symbols of Iran's struggle for democracy.
When Shahrzad Kariman finally saw her imprisoned daughter Shiva Nazar Ahari earlier this month, it was for a brief moment outside the Tehran courtroom where the 26-year-old human rights campaigner had been brought.
"We could see her for a few minutes," Kariman told the International Campaign for Human Rights in Iran last week. "Just enough to hug her. But we couldn't ask her how the court session went… We didn't know what the charges were prior to the court session."
The charges against Nazar Ahari are among the most serious that can be levelled in Iran: muharebeh (enmity against God), a crime, in theory punishable by death, originally intended to be used against armed gangs and pirates, not dissidents.
Nazar Ahari is also charged with assembly and collusion aiming to commit a crime, propagating against the regime and disrupting public order. But perhaps most dangerous among the allegations – strongly denied both by her family and her organisation, the Committee for Human Rights Reporters – is of "relations" with the banned Mojahedin e-Khalq group, which is accused by the Iranian regime of terrorist activities. Her family says that she deplores the organisation.
Arrested twice since the disputed Iranian elections in June 2009 and held in the notorious Evin prison, in north-west Tehran, Nazar Ahari has been kept largely incommunicado since December, when she was arrested with several other women activists on her way to the funeral of Grand Ayatollah Hossein Ali Montazeri in the city of Qom. Also detained was Mahboubeh Abbasgholizadeh, another prominent women's rights activist and film-maker, who has since left Iran and was sentenced in absentia to two-and-a-half-years in jail and 30 lashes for her part in a 2007 protest.
For the 15 months since Iran's stolen elections, the faces of these women and others like them have been visible from Paris to New York, in London, Berlin, Sydney and the Hague.
Their pictures have been held aloft at demonstrations, appeared on human rights websites and are plastered almost daily across newspapers and television screens. They have joined the faces of other Iranian women who, through their activism or by dint of becoming victims of the regime, have come to be the most visible symbols in the west of the wider political and social oppression in Iran under its conservative president, Mahmoud Ahmadinejad.
Then there are the images of the dead, such as Neda Agha-Soltan, shot on 20 June 2009 while attending an opposition demonstration to protest at the theft of the Iranian election by Ahmadinejad and his supporters.
If female activists have been prominent, so too have women threatened with death, such as Sakineh Mohammadi Ashtiani, the 43-year-old mother-of-two thrust to international attention after she was sentenced to being stoned to death for adultery.
And if Mohammadi Ashtiani is not an activist but a victim, her shocking case has become a lightning rod for activism for Iranian human rights, an example of how women are treated in the Islamic republic and the failure of its judicial system. This has been seized on by film stars and celebrities such as Colin Firth, Emma Thompson and Carla Bruni, the wife of France's president, Nicolas Sarkozy, by politicians such as foreign secretary William Hague, and by institutions such as the European parliament and the Vatican.
The consequence has been that some names and pictures have become as recognisable as those Iranian women internationally renowned before 2009, such as
Shirin Ebadi
, the Nobel prize-winning human rights activist.
There is a simple reason why the cases of those women being persecuted for their activism and the case of Mohammadi Ashtiani are connected. Their stories reflect different aspects of the same confrontation in Iran: the place of women – and how women who fall foul of the regime can be accused and charged with anything, with no guarantee of a fair trial.
Click here to read the full story:
By Peter Beaumont & Saeed Kamali Dehghan
The Observer
Photo credit:
The Observer
Related links:
More About Iran on AWR