Invincible Women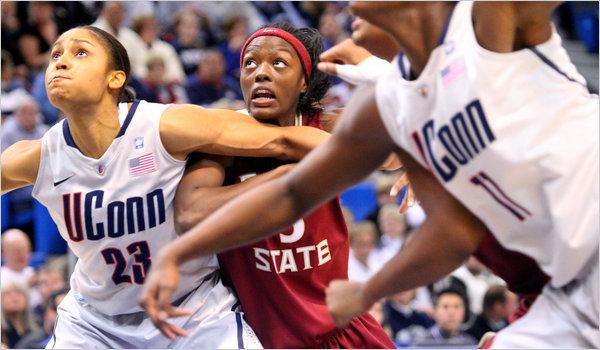 For decades, U.C.L.A.'s winning streak seemed as round and fundamental and permanent as the shape of the ball itself.
And yet, it is the Connecticut women, not the U.C.L.A. men, who now hold the major-college basketball record for invincibility.
The Huskies won their 89th consecutive game Tuesday with a 93-62 throttling of Florida State before a sellout crowd of 16,294 at the XL Center, surpassing the 88 straight won by the U.C.L.A. men, coached by John Wooden, from 1971 to 1974.
The top-ranked Huskies (11-0) were bolstered Tuesday by career-high scoring from the senior forward Maya Moore (41 points) and the freshman point guard Bria Hartley (21).
UConn has been so dominant during its run that the average victory margin has been 33.3 points.
Only four teams have come within 10 points of UConn and only one has shot at least 50 percent from the field. By halftime against Florida State, Moore's 26 points were one fewer than the Seminoles had scored as a team.
UConn's last defeat came by 82-73 to Stanford on April 6, 2008, in the national semifinals. Many predict the eighth-ranked Cardinal will bookend the Huskies' streak when it hosts UConn on Dec. 30. Otherwise, the Huskies may go undefeated through the regular season as momentum snowballs toward a third consecutive national championship.
The overall college record is held by the women's team at Wayland Baptist University of Plainview, Tex., which won 131 consecutive games from 1953 to 1958. But that was decades before the N.C.A.A. began sponsoring women's basketball in 1982. It was a different game, played under different rules, at a different speed and a different level of athleticism. And it probably did not involve congratulations from the president of the United States.
During UConn's postgame news conference on Tuesday, Coach Geno Auriemma received a call from President Obama, an inveterate basketball fan. According to Auriemma, Obama told him, "It's a great thing for sports; it's an accomplishment to be celebrated."
To which Auriemma replied: "We have not lost since you were inaugurated. How about we keep that streak going for a couple more years, huh?"
Greg Wooden, a grandson of the legendary U.C.L.A. coach, who died in June, attended Tuesday's game and said his grandfather would have been "absolutely thrilled" to see the Bruins' streak broken by a women's team, especially one as unselfish as UConn.
Late in his life, Wooden said, his grandfather "thought the best basketball was played at the collegiate level and it wasn't by the men."
This UConn team is hardly the best that Auriemma has coached while winning seven national titles since 1995. But the younger UConn players are growing more assured, more deeply initiated into a culture that fosters confidence and unselfish play and demands unwavering effort. In the first half Tuesday, Auriemma grew so elated with Hartley's performance that he gave her a kiss.
Speaking about the Huskies, Bill Walton, the all-American center on those U.C.L.A. teams of the early 1970s, told The Associated Press: "They play with a great sense of team, great purpose, phenomenal execution of fundamentals, relentless attack. It is what every team should aspire to, regardless of the sport."
Click here to read the full story:
By Jere Longman
New York Times
Photo Credit:
Suzy Allman