Indra Nooyi (Chief Executive)
I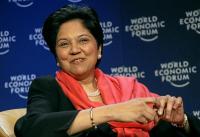 ndra Krishnamurthy Nooyi is the Chairman and Chief Executive Officer (CEO) of PepsiCo, one of the world's leading food and beverage companies. On August 14, 2006, Nooyi was named the successor to Steven Reinemund as chief executive officer of the company effective October 1, 2006. On February 5, 2007, she was named Chairman, effective May 2, 2007.
Forbes magazine ranked Nooyi third on the 2008 and 2009 list of The World's 100 Most Powerful Women.
Fortune magazine has named Nooyi number one on its annual ranking of Most Powerful Women in business for 2006, 2007, 2008 and 2009.
In 2008, Nooyi was named one of America's Best Leaders by U.S. News & World Report.
Related Links:
Wikipedia
The World's Most Powerful Women 2009