Indra Krishnamurthy Nooyi (Businesswoman/TopGun CEO)
Susan notes: Indra Krishnamurthy Nooyi is one of 15 amazing women on stage at #TED2011. We're working hard to get TED to work harder on gender parity. ADD YOUR VOICE HERE.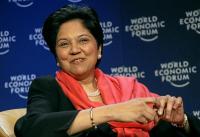 Indra Krishnamurthy Nooyi is an Indian-born American executive and is the Chairperson and Chief Executive Officer of PepsiCo Incorporated.
On August 14, 2006, Nooyi was named the successor to Steven Reinemund as chief executive officer of the company effective October 1, 2006. On February 5, 2007, she was named chairman of the board, effective May 2, 2007.
She is a Successor Fellow of the Yale Corporation. She serves as a member of the Foundation Board of the World Economic Forum, International Rescue Committee, Catalyst[7] and the Lincoln Center for the Performing Arts.
She is also a member of the Board of Trustees of Eisenhower Fellowships, and has served as Chairperson of the U.S.-India Business Council.
Related Articles