Indian Woman Wrestler Overcomes Fear Factor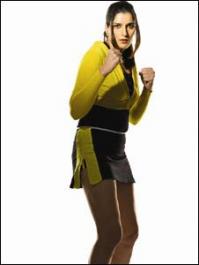 Sonika Kaliraman is a rarity - she is one of 200 Indian women who wrestle professionally, and one of only about 50 women who can represent India in international championships.
She is tall and graceful - and it's hard to imagine her tossing opponents onto a wrestling mat.
But Sonika, 26, is the daughter of India's wrestling champion, Chandgi Ram.
She has been living her father's dream for 10 years now, and hopes for success in next year's Commonwealth Games in Delhi. She won gold at the Asian Women Wrestling Championship in 2000.
Her real shot at national fame came this August, when she took part in Khatron Ke Khiladi - the Indian version of popular American reality show, Celebrity Fear Factor.
''[Bollywood star] Akshay Kumar [who hosts the show] once exclaimed on the set - "Wrestler? She looks more like a model!" says Sonika.
Her appearance on the show, and the subsequent attention she received from the media have had an effect on her.
Click here to read the full story:
By Gayathri Sreedharan
BBC News, Delhi