Indian Men Volunteer To Marry Sex Workers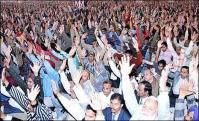 More than 1,000 followers of a multi-religious sect in northern India have pledged to marry female sex workers who want to escape exploitation.
Young Hindu, Muslim and Sikh men have been queuing up at the Dera Sacha Sauda (Abode of the Real Deal) in the town of Sirsa as "wedding volunteers". They say they are doing so to stop the women from being exploited in brothels.
They also claim that their move is part of a campaign to stop the spread of the HIV/Aids virus. The Dera Sacha Sauda (DSS) is one of many religious sects operating in northern India. Most take root by offering community services, social welfare and spiritual leadership but over time, as their followings grow, they often seek political influence.
Correspondents say that in religious terms, the DSS is hard to classify. Many experts argue that it is not, as some have said, an offshoot of Sikhism. More than 1,200 DSS members have signed pledges to marry the sex workers following a call from DSS chief Ram Rahim Singh a little over a month ago.
Click here to read the full story
Related links:
Sex trafficking stories on AWR