India Struggles To Resolve Equal Representation For Women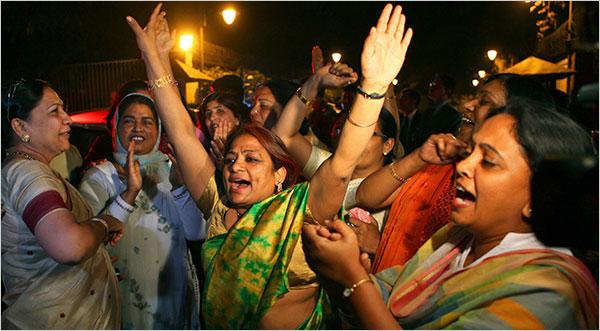 The upper house of
India
's Parliament passed a bill Tuesday that would amend the
Constitution
to reserve one-third of the seats in India's national and state legislatures for women, after the measure stirred two days of political chaos that could whittle the governing coalition's majority to a dangerously thin margin.
The vote, which is an early step in the process of amending the Constitution, brought pandemonium to Parliament, as a small group of regional caste-based parties waged a fierce fight to block it, arguing that it would diminish their influence.
The parties, allies of the governing coalition led by the Congress Party, have threatened to withdraw their support, which would reduce the coalition's voting majority to single digits and jeopardize crucial legislation like India's budget, which was just introduced. The chaos surrounding the bill threatens to undermine what has been an otherwise stable coalition government, analysts said.
Tuesday's vote was the first of four hurdles the measure must clear. The lower house of Parliament, the Lok Sabha, must pass the bill, then the proposed amendment will need to win approval from at least half of India's state legislatures. Then India's president, a largely ceremonial post, must sign off.
The amendment is a long-sought tool to improve the lot of women in India, the world's most populous democracy. Despite having had several formidable female leaders — including former Prime Minister Indira Gandhi and her daughter-in-law Sonia Gandhi, the current leader of the Congress Party — Indian women lag behind men in virtually every sphere of life.
Various governments have been trying to get the amendment passed since the 1990s, but each has failed despite wide support across the political spectrum. The fight over the bill illustrates the often vicious competition between caste, religion, ethnicity and gender over who will benefit most from laws designed to reduce inequality.
Opponents of the bill say that it will favor wealthy upper-caste women at the expense of the lower castes and Muslims.
Click here to read the full story:
By Lydia Polgreen
New York Times
Photo Credit:
Associated Press
Related links:
More about India on AWR