Immigrant Rana Tauqeer Creates Urdu Business Network In Canada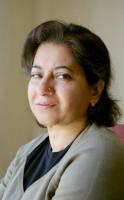 Posted By Sana Saleem
October 26, 2009

Feminism stems from a strong belief that equal opportunity; rights and respect should be given irrespective of gender. Unfortunately in the society we live in feminism has always been kept under scrutiny. It's considered more of an inclination towards female chauvinism than a struggle against gender bias.
What most of the people fail to realize is that women right activist are like any other human right activists fighting against gender bias. Regardless of the allegations the struggle towards equal women rights and opportunities continue.
However the struggle is not only against the norms but much more is required to reach out and help. The list begins with lack of funds, opportunities, and the fear of breaking taboos. Quite often cultural barriers also play their role in snubbing voices. Fortunately we still have women who do not accept any of these as an excuse and continue their struggle irrespective of the norms.
One such woman is Rana Tauqeer, the founder of ZeyroZabar, an online Urdu magazine, which started off as women's magazine and has now become the resource for the entire family. The idea of
ZeyroZabar
is not only highlighting women rights and their issues it is about emancipation of women. An ideology set to trigger a pivotal change to the society with a mere notion "empowering women for a better future."
Tauqeer's journey began when she moved to Canada with her family. After working with an election office as an office manager Rana explored the South Asian media and its diverse readership in Canada. Tauqeer recalls her experience thus:
"During the 3 months tenure of my work I came across the South Asian Media and discovered that there is a large reader ship for women Urdu magazines and digests. These were mainly housewives, although fairly educated yet reading and understanding the information given about the various aspects of life in English seemed to be a farfetched idea for them.
As a result a considerable percentage of this human resource lived as a castaway community and failed to be instrumental and make any contribution to this society. It was at that time when I decided to launch a magazine in Urdu with something more than just the beauty tips, romantic tales and recipes. I wanted this to become a resource for helping them towards gaining self employment and self reliance."
The journey of ZeyroZabar was given a whole new dimension as Tauqeer joined the organization Community Economic Development for Immigrant Women. It was here that she groomed her agendas and initiated a business entrepreneurship program. It was this idea that gave ZeyroZabar its true meaning and goal for expansion. The dream of an Urdu magazine to cater women readership with the idea of keeping them informed and updated has now blown in to an entrepreneurial Business network group. This is what makes ZeyroZabar not only diverse but promising.
Over the course of time ZeyroZabar has grown from being an Urdu magazine to a business-networking group helping to cater the Pakistani Society living in multicultural Canada. Amid the vast diversity of cultural heritage in Canada the idea is enterprising and holds a strong potential. Nevertheless being a mother and a working woman taking such initiatives can be very challenging. It was with this thought that I finally decided to explore more about ZeyroZabar and how she manages to strike the right balance.
When I asked her the same question her answer was rather humble:
"I have tried to maintain this fine balance and bring in the spirit of tolerance and openness in accepting each other which is the essence of Canadian society Balancing between work and family and coping with the everyday changing modern technology has been some of the major challenges too, but strong family bonds helped me thrive in all aspects of life. May it be rescuing me from juggling with computer, running small errands or standing beside me at events, the family has been the safest and the most reliable sounding board when ever things got tough."
ZeyroZabar now targets to build a network for the Pakistani community and provide them as much information as possible about the business world at large. This includes grooming individuals to learn the ethics and principles of successful business so that they can build a family of self-supporting, self-relying and self respecting members in whichever part of the world they are living in.
Tauqeer now hopes to connect with other likeminded organization willing to help by sharing their knowledge, wisdom and experience with the community, thus helping groom those interested in setting up their own business. She also looks forward to having various human right activists and interested individuals to join in ZeyroZabar meetings as speakers helping build a bridge and groom the community.
The journey of
Zeyrozabar
inspires me because it is a dream of an ordinary woman, who has family, work and other issues to deal with. The most inspiring part of the journey for me is that the bold initiative came after a very short time of immigration.
Tauqeer not only managed to fight through the settling phase but has also made her own mark in the society. With a potential as awe inspiriting as this, one can only imagine the potential her business network holds. To sum it all up in her own words Tauqeer reflects upon the aim of Zeyrozabar as "we are not business Gurus, but we can help you access one". With the simple notion
ZeyroZabar
aims to be the bridge between the business world and a growing community with great potential in the backdrop the culturally diverse society of Canada.