Iman ben Chaibah Sails Into Uncharted Waters With E-Magazine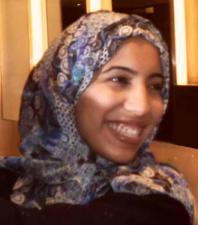 It was while listening to a lecture by a Kuwaiti comic book author that Iman ben Chaibah had a moment of clarity and decided that she had to do something.
Dr Naif al Mutawa was addressing an audience at Dubai's Capital Club when he said he created the characters in his comic book The 99 to reclaim Islam from the "militants who took it hostage" on September 11, 2001.
"He said he began writing when he saw the way people were judging Muslims and the Middle East from a stereotypical standpoint," said Miss ben Chaibah. "He wanted to redress the image that Islam was violent and hateful.
"It suddenly struck me that I was facing a similar problem. The idea most foreigners have of Emirati women is that we were rich and lazy, only interested in fashion and designer labels and not able read or think for ourselves.
"I realised I had to use my writing to change that stereotype."
On March 1, two weeks after hearing Dr al Mutawa speak, the 25-year-old IT product manager launched her own e-magazine. The online publication -
ww.sailemagazine.com
- is believed to be only the second such entity in the UAE and the first to be set up by a woman.
"People said I wouldn't be able to do it. They thought it would be too much work, but I was determined. I knew it was what I had to do."
As the editor-in-chief of Sail Magazine, which is published online once a month in English, Miss ben Chaibah has three rules: no fashion, no celebrities and only content that provides "value" to the reader.
"By 'value' I mean I want people to be inspired and I want people to think," she said.
Click here for the full story:
By Anna Seaman
The National
Photo Credit:
Nicole Hill / The National
Related Links:
More About Dubai on AWR