If It Ain't Broke...Fix It Anyway
This story, written by James Christie under the headline "Heil Ready to Race Again," first appeared in The Globe and Mail, one of Canada's national newspapers, on December 12, 2008.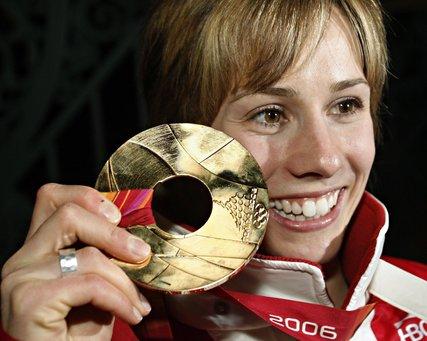 There's a standing gag in the comic's repertoire about the perils of taking something apart and not being able to put it back together again.

Dismantling happens in sport, too, with mixed effect..
Any number of swing doctors have realigned golfers, from Tiger Woods to Mike Weir. Batting instructors try to get the wood to meet the baseball. Basketball shooting coaches are hired to help players find the twine. The eternal question is: "Will the remade product work better than before?"
The reconstruction of the world's best moguls skier, Jenn Heil, will be unveiled next week.
Gold Medal Girl

Heil is an Olympic gold medalist and four-time World Cup champion. Here's her qualifying mogul run at the 2006 Olympic Winter Games:
Some would question the wisdom of fixing something that works so well. But though Heil is the queen of the knee-destroying event of moguls skiing, she realized she could be better than she was. All her movements in everyday life — even walking — could be better, she figured.
Add to this a fresh take on the world around her, moulded on a trip through Africa with the
Plan International
humanitarian group, and Heil feels like a new woman, body and soul.
The 25-year-old from Spruce Grove, Alta., now based in Montreal, was on the phone from Tignes, France, this week, excitedly explaining that she's about to return to the World Cup wars after 20 months away from the slopes. As important as remaking her body for the snow-covered hills were the human experiences she gained in steamy
Burkina Faso
, a small country in west central Africa.
"I discovered that there and in other underdeveloped countries, girls are the last to go to school. There are significantly less girls being educated than boys," she said in a message. "As a woman, as a Canadian, I found this hard to comprehend."
The organization, through its "
because I am a girl
" campaign provided scholarships to girls, who suddenly could envision a future where they saw none before.
"Each girl had a voice and the sum of their voices spoke loudly of their desire to become full citizens of tomorrow. I came away realizing that the power of one is so very real; that each of us can truly make a difference," Heil said. "I carry the girls' voices with me. I carry them when I train, when I'm on the hill and on the start line."
Time Outs
This is not the first time Heil has taken a year away from competition. After coming within an eye blink of a medal as the baby of the Canadian team at her rookie Olympics in 2002, Heil sat out 2003 because of shin splints. She came back in 2004 to win her first of four consecutive Crystal Globes as the World Cup champ.
"I sat down with a team at the end of 2007 — an osteopath and a physiotherapist and a strength coach and a sport psychologist — and we talked about what I needed to be at my best in 2010 [for the Vancouver Winter Games]," Heil said. "They all agreed I could be better."
She'd put together the most successful record in moguls skiing in nearly a decade on the World Cup tour and won Canada's first Olympic gold in Turin in 2006 without being at her best.
She was enduring the wear and tear of a high-performance athlete and injury could stop her before she got to the 2010 Olympics. But more than that, she discovered she was walking through everyday life out of kilter. She had to straighten herself out.
"We decided to take a step back and rebuild my body. It turned out I had a lot of imbalances. The muscles on the right side of my body weren't firing the way they should," she said.
The architect of the new Jenn would be athletic therapist Jaime Livingston, wife of Scott Livingston, the strength trainer of the NHL's Montreal Canadiens, who has also been Heil's strength guru. "Jaime took me on and it was a process of building from the very ground up," Heil said.
It was as fundamental as correcting her posture. Dominick Gauthier, her coach since 2001, said Heil wasn't able to make right turns as well as her left turns. The solution, in part, was to learn how to shift her weight efficiently.
"I wasn't allowed to do anything but walk to school at McGill [where she is pursuing a commerce degree]. We had to change the way my body moved, from my toes, to the way my foot rolled when I walked, up to my head. I had to carry my hips higher. I had to get my body moving into the right place, then reinforce it," Heil said.
Next week, at Meribel, France, Heil competes for the first time in almost two years. In January, she will be the star attraction at Cypress Mountain, B.C., when the Olympic moguls venue will be tested.
For a skier whose event takes place thumping down a hill to rock music, with only split seconds between moguls — and whose aerial tricks can involve flipping upside down — there had to be a lot of belief in the support team that has rebuilt her body and her game.
Go For Your Dreams
Heil said one of her messages is to tell others to have the courage to go after their dreams. That philosophy applied to her, too, she said.
"It takes a lot of faith to go back to the very beginning," she said. "I feel glued [secure] to the snow. I'm going to realize my potential.
"The whole process of changing the mechanics is getting the body to move the way it was meant to move. Over time, bad patterns had gotten reinforced. I had to hit the reset button," she said. "Last month in Montreal, it was the hardest I had ever trained. It was the best I could do."
The physical side is ready for the bumps, and now she says the mental and spiritual sides are, too.
"Before I visited Burkina Faso, I thought I was going to motivate these girls, what I found was that it is they who are motivating me," Heil said.
"That's something else I will bring back to the hill."