Ida Tarbell (Teacher/Author/Journalist)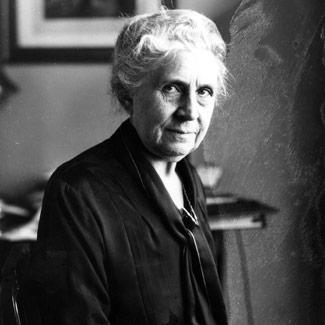 Ida Minerva Tarbell (November 5, 1857 – January 6, 1944) was an American teacher, author and journalist. She was known as one of the leading "muckrakers" of the progressive era, work known in modern times as "investigative journalism". She wrote many notable magazine series and biographies.

She is best-known for her 1904 book The History of the Standard Oil Company, which was listed as No. 5 in a 1999 list by the New York Times of the top 100 works of 20th-century American journalism. She began her work on The Standard after her editors at McClure's Magazine called for a story on one of the trusts.

Tarbell was born in the village of Hatch Hollow in Amity Township, Erie County, Pennsylvania on November 5, 1857. She was born in a log cabin that was the home of her maternal grandfather, Walter Raleigh McCullough, a Scots-Irish pioneer.

She grew up in the western portion of the state where new oil fields were developed in the 1860s. She was the daughter of Ester Ann McCullough and Franklin Summer Tarbell, a teacher and a joiner by trade, who used his trade to build wooden oil storage tanks.

In 1860 Ida's father moved the family to Titusville, Pennsylvania. He built a house which was her mother's first home of her own. He later became an oil producer and refiner in Venango County. Her father's business, and those of many other small businessmen, was adversely affected by the South Improvement Company scheme around 1872 between the railroads and larger oil interests. Later, she would vividly recall this situation in her work, as she accused the leaders of the Standard Oil Company of using unfair tactics to put her father and many small oil companies out of business.
Tarbell graduated at the head of her high school class in Titusville. She attended Allegheny College beginning in 1876. She majored in biology and was the only woman in her class when she graduated in 1880.
After graduating from college as one of five female students, Tarbell began her career as a teacher at Poland Union Seminary in Poland, Ohio. She taught two classes each of four languages, geology, botany, geometry and trigonometry. After two years, she realized teaching was too much for her and that she enjoyed writing better.
Tarbell returned to Pennsylvania, where she met Theodore L. Flood, editor of The Chautauquan, a teaching supplement for home study courses at Chautauqua, New York. She was quick to accept Flood's offer to write for the publication; as she said, "I was glad to be useful, for I had grown up with what was called the Chautauqua movement."
In 1886 she became managing editor. Her duties included proofing, answering reader questions, provide proper pronunciation of certain words, translation of foreign phrases, identifying characters and defining words. "Doing this job I began to think about facts and reading proofs. It was an exacting job which never ceases to worry me. What if the accent was in the wrong place? What if I brought somebody into the world in the wrong year?"
In 1890 Tarbell moved to Paris to do post-graduate work and write a biography of Madame Roland, the leader of an influential salon during the French Revolution. While in France, she wrote articles for various magazines, catching the eye of publisher Samuel McClure. He offered her the position as editor for the magazine. While working for McClure's Magazine, Tarbell wrote a popular series on Napoleon Bonaparte.
Her 20-part series on Abraham Lincoln doubled the magazine's circulation, and was published in a book. These gave her a national reputation as a leading writer and made her the leading authority on the slain president. Her research in the backwoods of Kentucky and Illinois uncovered the true story of Lincoln's childhood and youth. She vividly chronicled his rise to the presidency.
Related Links:
Ida Tarbell on Wikipedia