I Just Want To Be OK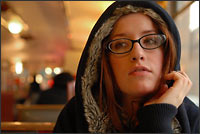 Ingrid Ellen Egbert Michaelson (born December 8, 1979) is a New York-based indie-pop singer-songwriter and singer of the above tune.
Her music has been featured in episodes of several popular television shows, including Scrubs, Bones, Grey's Anatomy, The Big C and One Tree Hill, as well as in Old Navy's Fall 2007 Fair Isle and Opel's/Vauxhall's Meriva 2010 advertising campaign.
Michaelson was born to artistic parents. Her father is a composer and her mother is a sculptor. Michaelson took up piano at age four, and trained until seven at Manhattan's Third Street Music School, continuing for many more years at the Jewish Community Center of Staten Island's Dorothy Delson Kuhn Music Institute. While there she met vocal coach Elizabeth McCullough, who worked with her through high school.
She is a graduate of Staten Island Technical High School and Binghamton University, where she received a degree in theater. While at Binghamton University she was a member of the Binghamtonics, a co-ed acappella group, as well as the Pappy Parker Players, an improv comedy group, and the theatre repertory company under Sue Peters.
Her time at Binghamton is mentioned in the song "The Hat". She grew up doing a musical theater group called "Kids On Stage". Later in life, she became a director until she decided to pursue her career in music.
Toward the end of 2008, she opened for Jason Mraz on his Europe tour, touring in the UK, Sweden, Denmark, the Netherlands, Germany and France among others. In the second half of 2009, Ingrid began her "Everybody" tour of the United States and Europe which continued in 2010.
In 2010 Ingrid was engaged to marry fellow artist Greg Laswell.
Related Articles