Holocaust Survivor Advocates For Palestinian Rights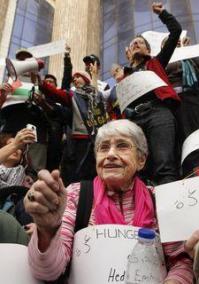 Hedy Epstein
is what some might see as a contradiction in terms: a survivor of the Holocaust and also a staunch advocate for the Palestinian people.
Born in 1924 in Freiburg, Germany, Epstein was 14 when she escaped from Nazi persecution via the Kinderstransport to England. Since her 1948 arrival in the U.S.,
Epstein has been an advocate for peace
and human rights.
In 2001 she founded the St. Louis chapter of the Women in Black anti-war group that originated in Israel, and has actively advocated for Palestinian rights since visiting the West Bank in 2003.
As the last decade came to a close, Epstein continued her advocacy by traveling with the women's peace advocacy group CodePink to the Gaza Freedom March.
The December 31st march (
organised with the support of Jewish Voice For Peace
), was a planned nonviolent demonstration to protest Israel's blockade of Gaza, with 1,000 advocates from abroad joining Palestinians in a march to the Gaza-Israel border checkpoint.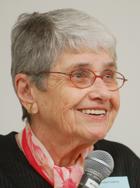 Although Egyptian authorities refused to let the full contingent of protesters into Gaza, the 100 activists that were permitted to enter carried on the anti-blockade message. Prior to the planned Gaza march, Epstein spoke with Babylon and Beyond about her past experiences in Israel, dealing with the controversy of being a Holocaust survivor who criticizes Israel, and the Gaza Freedom March...
Related links:
Peace Women In Palestine & Israel Strive For A Better World
More Palestine-Related Stories
Thanks to:
Daniel Quinn
USA