HIV-Positive Widow Fights Spread Of AIDS In Vietnam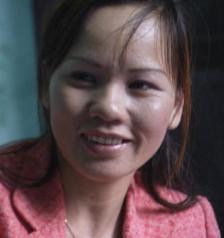 "I try to forget my past," Bui My Hanh whispers. "But I can't forget the night my daughter passed away in my arms. I wish I could have exchanged my life with hers. But God did not allow me to do that…"

Three months after she lost five-year-old daughter, Bui My's husband also died, just as her little girl had, of AIDS.

According to Avert.org (a UK-based international working to avert HIV and AIDS worldwide), the number of HIV/AIDS cases in Vietman more than doubled to 260,000 from 120,000 between 2000 and 2005.

Bui My's husband and daughter were amongst the swelling tide of victims. But Bui My's touching story, one of three artfully told in the compelling documentary A Powerful Noise, is as inspirational as it is tragic. (See the trailer and buy the movie from Amazon at the links below.)

In a country where HIV/AIDS is regarded as a social evil due to its connection to drug use and prostitution, blameless individuals such as Bui My suffer discrimination from their families and society.
Despite being stigmatised, alone and also infected with HIV, Bui My refused to give up after the loss of her loved ones. Instead, she chose to connect with other HIV/AIDS victims, and to do whatever she could to prevent the further spread of the dread disease in Northern Vietnam.
She began by establishing a self-help group (called Immortal Flower), which provides support, counseling and health care advice to HIV/AIDS sufferers in her community.
Immortal Flower quickly grew to over 130 members, from only six, in the first year. Together, group members reach out to the community with condom distribution, medical assistance and other programmes. Their efforts have begun to make a difference.
As is often the case, helping others helped Bui My regain her strength and to feel more hopeful about her own future. She now pays close attention to her own health, partly to ensure that she can continue to care for others.
"My biggest wish is to live," she says in the film. " I protect my health so that I can live. With health, I can do anything."
Although Bui My speaks in a whisper, her voice is part of a powerful noise that now echoes worldwide, heralding a new age of empowerment and change for women everywhere.
Susan notes: Bui My Hanh's is one of three women featured in the tender, touching and beautifully filmed documentary A Powerful Noise. It tells the tragic, yet also achingly hopeful stories of Bui My Hahn, Nada Markovic, a Bosnian war survivor turned community activist, and Jacqueline Dembele (aka Madame Urbain), who fights forced labor practices and illiteracy in the slums of Bamako, Mali.
Click to order the DVD
:
United States

Canada

UK

Related Articles