Helen Davis Johnson (Cultural Entrepreneur)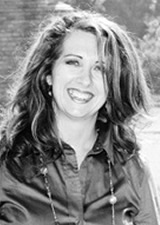 I co-founded CreateHere, an innovative non-profit based in Chattanooga, TN, in 2007 and have served since its inception as co-president and creative strategist.
Under the combined leadership of myself and co-president, CreateHere has strategically focused on utilizing creativity and innovation as tools to spur local development in arts, economy and culture.
CreateHere works to animate and inspire Chattanooga's people by promoting "big picture" vision.
That vision starts with the attraction and retention of creative individuals through a relocation incentive now in its fourth year; a competitive fellowship program 30-young people strong; a grants program funding over $450,000 in creative projects; and a progressive workspace that doubles as a community center and civic engagement laboratory.
Chattanooga's history is a testament to the success of "place-making" development initiatives, but CreateHere goes one step further, jumpstarting efforts at "people-making," and finding ways to celebrate public spaces in the process.
I've had the opportunity to speak at conferences by the Tennessee Arts Commission, the Council on Foundations and Lambda Alpha International, as well as a number of local panels.
I am active in local environmental issues, and am proud to be a founding member of Take Root, a non-profit project that organizes urban tree plantings throughout Chattanooga to double the existing tree canopy.
This effort fosters environmental health while inspiring residents to invest in the livelihood of their communities. Additionally, I serve on the board of the Community Foundation of Greater Chattanooga and the Women's Fund of Greater Chattanooga.
Prior to co-founding CreateHere, I spent a dozen years in non-profit and arts administration, building the nationally-ranked 4 Bridges Arts Festival, coordinating innovative museum education programs at the Hunter Museum of American Art, as well as designing and launching community focused arts initiatives at Allied Arts. <!--EndFragment-->
I'm also a mom and a wife. I believe very much that it is my responsibility to provide dedicated and consistent love and guidance to my children. Being a partner and a parent, means to me, that I benefit from and add to the mix in both my personal and professional pursuits.
It means being flexible and patient and taking joy in the small things. It means seeing potential everywhere I look, searching for truth and learning constantly. In the end, this is what works for me; caring for the small things and for the big things, the personal things and the professional things, but most importantly, all of the real things worth giving a damn about.
Related links:
Helen Davis Johnson on Changents
@helenjohnson