Hedy Schleifer, Clinical Psychologist - TEDxTelAviv
Susan notes: Thanks to TED for making TED Talks downloadable and embeddable, and for providing the biographical information that goes along with them.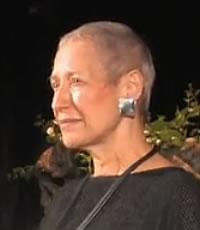 Clinical psychologist and a couple and relationship therapy expert, Hedy Schleifer "crosses the bridge" with TEDxTelAviv audience and brings laughter and passion to the adventure of learning the art of listening.

Hedy Schleifer is a Licensed Mental Health Counselor in Florida, licensed as a clinical psychologist in Israel, and the director of Schleifer & Associates: Relationship Builders, in Miami, Florida.

Trained in both the United States and Israel, Hedy is a Certified Imago Therapist, and for 12 years trained and certified numerous Imago Therapists and Workshop Presenters. She is a Diplomate of the American Psychotherapy Association, a member of the Israel Association for Marital & Family Therapy; Florida Society for Psychotherapists; the Florida and National chapters of the Mental Health Counselors Association, and also an affiliate member of the Florida and National chapters of the Association for Marriage and Family Therapy.
Hedy has been in private practice since the 1970's and is sought out by mental health professionals from all disciplines for supervision and consultation. Internationally known for her powerful and captivating workshops and lectures on a wide variety of topics, Hedy is in demand as a speaker who not only gives insightful information, but who also inspires, and empowers people to embrace their life and their work with joy and passion.
Hedy and her husband Yumi, an engineer and businessman, have been married for over 40 years. Together, they pioneered the international development of Imago Relationship Theory based workshops throughout Europe, Israel and Africa. Hedy also offers training programs for therapists and relationship specialists. Hedy is described as an "exceptionally competent and gifted therapist and teacher -- creative, sensitive, caring, and safe. She brings laughter and passion to the adventure of learning."
Related Articles