Haitian Women Drive Country Out Of Debris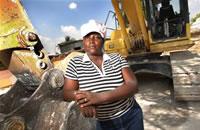 Cendra Guillaume walks into the dusty depot of manly machines, passes fellow female workers, and steps into the front office with a familiar look of determination.
Not one to sit around and wait, the wife, mother and heavy equipment operator gets right to the point: ``Where to today?''
In the months since the Haiti earthquake claimed an estimated 300,000 lives, women like Guillaume have been on the front lines of paving the way for this broken nation's reconstruction.
Theirs are the anonymous hands that steered the dead and dying to unmarked graves in black and white government dump trucks, tunneled through the rubble for foreign rescue teams and cleared debris from hundreds of blocked roads.
In the process, they are challenging the notion of a woman's traditional role in this machismo society, and restoring what many thought they had lost in the rubble: faith in the future.
``It's a beautiful thing,'' said Guérino Noël, 44, a father of two daughters who ekes out a living scavenging ruins for copper wire, as he watched Guillaume deftly maneuver her giant yellow excavator.
``As a Haitian male, I was personally offended the first time I saw a woman driving one of those trucks,'' he said. ``But when you are living in such a deplorable situation, where even eating is difficult, and you see a woman sitting behind the wheels of one of those trucks, it means something in the country is still working.''
PROVING THEMSELVES
Guillaume works for Centre National des Equipments or CNE, the government's road-building outfit. Formed in 1997, it has deliberately filled its employee ranks with women. They serve in every capacity from dump truck driver to loader to excavator operator to trainer.
``I was first concerned about my equipment,'' said Jude Célestin, CNE founder and executive director. ``We always had a problem with drivers stealing fuel, stealing parts from the trucks. It's a fact that we have this problem in Haiti. With women, it's different.
``When I give a woman a piece of equipment, I am sure she's going to take care of her family; she will take care of her children,'' he said. ``Women have something else inside them that they don't even realize is there: a need to prove to themselves that they can do the same thing as a man.''
Before the catastrophic quake hit Jan. 12, most of CNE's employees had been working in the outskirts of the capital, building roads as part of President René Préval's effort to transform the lives of farmers.
Within hours of the disaster, amid the death and chaos, 85 trainees -- 65 of them women -- arrived on foot from the nearby Cité Soleil slum. They immediately climbed into the cockpits and began to clear major roads and downtown of debris.
Click here for the full story:
By Jacqueline Charles
Miami Herald
Related Links:
More About Haiti on AWR