Grandmothers to the Rescue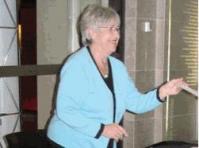 When Calgarian Dariel Bateman, 63, became a grandmother two years ago it rocked her world.
It also spurred her to join the
Grandmothers to Grandmothers Campaign
. The longtime volunteer -- who cooks for the Inn From the Cold and sits on the board of Volunteer Calgary -- was also drawn to the organization because she has a family member with "full-blown" AIDS.
"I would like for all those orphaned grandchildren of grandmothers in Africa to have what my granddaughter has: a good place to live, health resources, unlimited freedom to play, appropriate clothing and the ability to ability to access free, universal primary education," Bateman says.
Valerie Berenyi
Calgary Herald
Canada
RELATED LINKS:
Rescuing AIDS Orphans
: A beautiful story about a delegation of 12 Canadian grandmothers who travelled across sub-Saharan Africa with the
Stephen Lewis Foundation
.
Tears Over AIDS, Inequality in Africa
: A follow-up to the Rescuing AIDS Orphans above.