Gertrude Dyck (Nurse/Missionary/Author)
Posted by Patricia Schmidt
October 21, 2009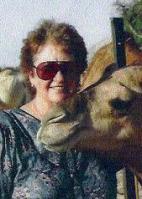 Gertrude, otherwise known as Gert, or as Doctora Latifa, enjoyed seventy-five years of life filled with a variety of rich experiences, mostly in a culture foreign to her own. She lived in the United Arab Emirates (UAE) taking on various roles, giving her heart and life to serve Arab people under the auspices of TEAM--The Evangelical Alliance Mission. For thirty-eight years she worked as a nurse/midwife for the Oasis Hospital in the city of Al Ain.
Gertrude was a prairie farm girl, born to Henry and Olga Dyck on April 2, 1934 in Dunelm, Saskatchewan during the depression years. She was the sister to Ernest, Anne, Henry and Helena. Having grown up during those years of the depression was good preparation for the beginning years in the UAE, when the lifestyle was extremely basic. Gert's parents were from a Mennonite background and Gert said that her mother, a praying woman, strongly influenced and shaped her future.
Gert became a committed Christian at the age of twelve and realized early that she wanted God to use her in some way, even to be a missionary. She attended Prairie Bible Institute in 1957, followed by training to be a nurse at the Calgary General Hospital. It was there that she grew to love babies. In 1962 God led her then to join the staff of Oasis Hospital in the Arabian desert of the UAE. Incidentally, her belongings that were shipped on her first trip to the UAE did not arrive until the following summer. Her dad had made her a huge plywood box for shipping which was big enough to hold the ironing board that she wanted to take along, and she was teased about her taking her coffin with her. That ironing board lasted her all of those thirty-five years.
Gertrude was one of the first foreigners to work as a nurse in Abu Dhabi. She was nicknamed by the local Arabs as "Doctora Latifa," meaning "mercy." She acted as a midwife to many of the 90,000 babies born at the Oasis Hospital after it opened in 1960, including members of the Royal family. In recent newspapers announcing her death, she was referred to as the "beloved 'mother ' of thousands." She had a long standing association with Sheikh Zayed, the late founder of the nation and with his relatives.
Gert was involved in visiting in local Emirati and royal homes and took many opportunities to share her faith and love with the people there. They became very dear to her heart.
Brooks Glett, from the current Oasis Hospital staff, relates the following about Gertrude Dyck: "Her nursing skills, fluency in Arabic and her love for the local culture and people earned her their deep trust. Many local people to this day proudly claim their children's mother was Doctora Latifa. In fact, many of those she delivered are the leaders of today's UAE. Miss Dyck was so immersed in Emirati culture and society that she even began teaching colloquial Arabic to new arrivals. Her desire was to instill in them the love and compassion she had for local people and she firmly believed this could only happen by understanding their language and culture."
Gert loved to share her stories and decided to write them down, and in 1995 she published a book called The Oasis, Al Ain Memoirs of 'Doctora Latifa.
She participated in numerous interviews and many articles were written about her life. She especially enjoyed speaking to the Emirati students at the universities and colleges. She was well known and loved by the expatriate community, and was especially involved in the Natural History Groups where they shared stories of life in the UAE.
After her retirement from TEAM and Oasis Hospital, Gertrude was asked to be a consultant for cultural orientation for Interhealth Canada in Abu Dhabi. That was also a rewarding time for her.
In 2002, Gertrude was recognized with two of Canada's highest honours: the Order of Canada, and a Queen Elizabeth II Golden Jubilee Medal for her work in the UAE.
For the last four years, Gert had been living in Abbotsford, BC. It was a difficult transition to life in Canada after all those years in Arabia. She started out living at Hallmark Assisted Living, before moving to Menno Terrace East. She would often get out on her scooter, enjoying some independence. She loved to take her camera along so she could take pictures, stopping for coffee or a Dairy Queen ice cream along the way. She especially enjoyed having a balcony and the flowers she had planted there. She also had amazing computer skills and would spend a lot of time working with her pictures on the computer, in between enjoying a game of Solitaire. She was interested in trying out new computer technology--her latest wish was to get a Blackberry.
Gert attended Women of the Harvest luncheon meetings once a month and was active in supporting other missionary endeavors. She also loved to watch older TV shows. Her laugh was infectious and her eyes sparkled when she found something that tickled her fancy. Lately she had become fascinated by the Winter Olympics' symbol, the Inuit inukshuk. She was generous and giving, always ready to help out anyone in need.
Gert spent a lot of time praying and reading her Bible. She had two One Year Bibles in her place, and both were well read with lots of markings in them--many underlined verses that spoke to her. She had been focusing on the word "Hope" this year, and the first verse in the front of her Bible is Romans 15:13: "May the God of hope fill you with all joy and peace as you trust in Him, so that you may overflow with hope by the power of the Holy Spirit."
Gert was very much looking forward to returning to the UAE again in the spring of 2010 for a visit. The Canadian Embassy in Abu Dhabi, UAE, is naming a room there after her, and she was hoping that she would be well enough to attend that occasion.
Gert had a fall which precipitated a six day battle for her life and she passed into the presence of her Saviour and Lord on Saturday, October 17, 2009. Some of her last words spoken that showed that she still had a sense of humor despite her pain and discomfort were "Are we having fun yet?"
Gertrude Dyck had a full life and is now enjoying her heavenly home. We will miss her!