Former Guerilla To Become Brazil
Susan notes: Dilma Rousseff was elected Brazil's first female president on October 30, 2010; she once told reporters that as a typical Brazilian girl in the 1950s she dreamed of becoming a ballerina.

Susan notes: An October 4 update on this story from The Guradian says: Ruling party candidate Dilma Rousseff has taken an early lead in Brazil's presidential election – but a second-round vote is possible, an exit poll has indicated. Rousseff, who could become the first woman to lead South America's largest democracy, is ahead in the race, but lacks the majority of votes needed to avoid a run-off, results show.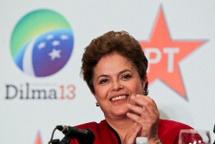 The world's most powerful woman will start coming into her own next weekend. Stocky and forceful at 63, this former leader of the resistance to a Western-backed military dictatorship (which tortured her) is preparing to take her place as President of Brazil.
As head of state, president Dilma Rousseff would outrank Angela Merkel, Germany's Chancellor, and Hillary Clinton, the US Secretary of State: her enormous country of 200 million people is revelling in its new oil wealth. Brazil's growth rate, rivalling China's, is one that Europe and Washington can only envy.
Her widely predicted victory in next Sunday's presidential poll will be greeted with delight by millions. It marks the final demolition of the "national security state", an arrangement that conservative governments in the US and Europe once regarded as their best artifice for limiting democracy and reform. It maintained a rotten status quo that kept a vast majority in poverty in Latin America while favouring their rich friends.
Ms Rousseff, the daughter of a Bulgarian immigrant to Brazil and his schoolteacher wife, has benefited from being, in effect, the prime minister of the immensely popular President Luiz Inacio Lula da Silva, the former union leader.
But, with a record of determination and success (which includes appearing to have conquered lymphatic cancer), this wife, mother and grandmother will be her own woman. The polls say she has built up an unassailable lead – of more than 50 per cent compared with less than 30 per cent – over her nearest rival, an uninspiring man of the centre called Jose Serra. Few doubt that she will be installed in the Alvorada presidential palace in Brasilia in January.
Like President Jose Mujica of Uruguay, Brazil's neighbour, Ms Rousseff is unashamed of a past as an urban guerrilla which included battling the generals and spending time in jail as a political prisoner. As a little girl growing up in the provincial city of Belo Horizonte, she says she dreamed successively of becoming a ballerina, a firefighter and a trapeze artist. The nuns at her school took her class to the city's poor area to show them the vast gaps between the middle-class minority and the vast majority of the poor. She remembers that when a young beggar with sad eyes came to her family's door she tore a currency note in half to share with him, not knowing that half a banknote had no value.
Her father, Pedro, died when she was 14, but by then he had introduced her to the novels of Zola and Dostoevski. After that, she and her siblings had to work hard with their mother to make ends meet. By 16 she was in POLOP (Workers' Politics), a group outside the traditional Brazilian Communist Party that sought to bring socialism to those who knew little about it.
The generals seized power in 1964 and decreed a reign of terror to defend what they called "national security". She joined secretive radical groups that saw nothing wrong with taking up arms against an illegitimate military regime. Besides cosseting the rich and crushing trade unions and the underclass, the generals censored the press, forbidding editors from leaving gaps in newspapers to show where news had been suppressed.
Click here to read the full story:
By Hugh O'Shaughnessy
The Independent
Photo Credit:
Reuters
Related Links:
More About Brazil on AWR
Exit polls show Dilma Rousseff on course to be Brazil's first female president