Florence Nightingale (Nurse/Writer)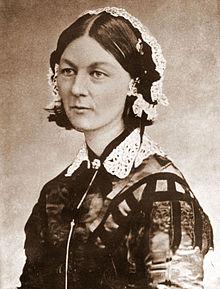 Florence Nightingale, OM, RRC (12 May 1820 – 13 August 1910) was a celebrated English nurse, writer and statistician. A Christian universalist, Nightingale believed that God had called her to be a nurse.
She came to prominence for her pioneering work in nursing during the Crimean War, where she tended to wounded soldiers. She was dubbed "The Lady with the Lamp" after her habit of making rounds at night.
Nightingale laid the foundation of professional nursing with the establishment, in 1860, of her nursing school at St Thomas' Hospital in London, the first secular nursing school in the world. The Nightingale Pledge taken by new nurses was named in her honour, and the annual International Nurses Day is celebrated around the world on her birthday.
Florence Nightingale was born into a rich, upper-class, well-connected British family at the Villa Colombaia, near the Porta Romana at Bellosguardo in Florence, Italy, and was named after the city of her birth. Florence's older sister Frances Parthenope had similarly been named after her place of birth, Parthenopolis, a Greek settlement now part of the city of Naples.
Her parents were William Edward Nightingale, born William Edward Shore (1794–1874) and Frances ("Fanny") Nightingale née Smith (1789–1880). William's mother Mary née Evans was the niece of one Peter Nightingale, under the terms of whose will William inherited his estate Lea Hurst in Derbyshire, and assumed the name and arms of Nightingale. Fanny's father (Florence's maternal grandfather) was the abolitionist William Smith.
Inspired by what she took as a call from God in February 1837 while at Embley Park, Florence announced her decision to enter nursing in 1844, despite the intense anger and distress of her mother and sister. In this, she rebelled against the expected role for a woman of her status, which was to become a wife and mother. Nightingale worked hard to educate herself in the art and science of nursing, in spite of opposition from her family and the restrictive societal code for affluent young English women.
Nightingale was courted by politician and poet Richard Monckton Milnes, 1st Baron Houghton, but she rejected him, convinced that marriage would interfere with her ability to follow her calling to nursing.
In Rome in 1847, she met Sidney Herbert, a brilliant politician who had been Secretary at War (1845–1846), a position he would hold again during the Crimean War. Herbert was on his honeymoon; he and Nightingale became lifelong close friends. Herbert and his wife were instrumental in facilitating Nightingale's nursing work in the Crimea, and she became a key adviser to him in his political career, though she was accused by some of having hastened Herbert's death from Bright's Disease in 1861 because of the pressure her programme of reform placed on him.
Nightingale also much later had strong relations with Benjamin Jowett, who may have wanted to marry her.
Nightingale continued her travels (now with Charles and Selina Bracebridge) as far as Greece and Egypt. Her writings on Egypt in particular are testimony to her learning, literary skill and philosophy of life. Sailing up the Nile as far as Abu Simbel in January 1850, she wrote
"I don't think I ever saw anything which affected me much more than this." And, considering the temple: "Sublime in the highest style of intellectual beauty, intellect without effort, without suffering... not a feature is correct – but the whole effect is more expressive of spiritual grandeur than anything I could have imagined. It makes the impression upon one that thousands of voices do, uniting in one unanimous simultaneous feeling of enthusiasm or emotion, which is said to overcome the strongest man."
At Thebes she wrote of being "called to God" while a week later near Cairo she wrote in her diary (as distinct from her far longer letters that her elder sister Parthenope was to print after her return): "God called me in the morning and asked me would I do good for him alone without reputation." Later in 1850, she visited the Lutheran religious community at Kaiserswerth-am-Rhein in Germany, where she observed Pastor Theodor Fliedner and the deaconesses working for the sick and the deprived.
She regarded the experience as a turning point in her life, and issued her findings anonymously in 1851; The Institution of Kaiserswerth on the Rhine, for the Practical Training of Deaconesses, etc. was her first published work; she also received four months of medical training at the institute which formed the basis for her later care.
On 22 August 1853, Nightingale took the post of superintendent at the Institute for the Care of Sick Gentlewomen in Upper Harley Street, London, a position she held until October 1854. Her father had given her an annual income of £500 (roughly £25,000/US$50,000 in present terms), which allowed her to live comfortably and to pursue her career.
Florence Nightingale's most famous contribution came during the Crimean War, which became her central focus when reports began to filter back to Britain about the horrific conditions for the wounded. On 21 October 1854, she and a staff of 38 women volunteer nurses, trained by Nightingale and including her aunt Mai Smith, were sent (under the authorisation of Sidney Herbert) to Ottoman Empire, about 295 nautical miles (546 km; 339 mi) across the Black Sea from Balaklava in the Crimea, where the main British camp was based.
Nightingale arrived early in November 1854 at Selimiye Barracks in Scutari (modern-day Üsküdar in Istanbul). She and her nurses found wounded soldiers being badly cared for by overworked medical staff in the face of official indifference. Medicines were in short supply, hygiene was being neglected, and mass infections were common, many of them fatal. There was no equipment to process food for the patients.
Until recently it was commonly asserted that Nightingale reduced the death rate from 42% to 2% either by making improvements in hygiene herself or by calling for the Sanitary Commission. For example the 1911 first edition of the Dictionary of National Biography made this claim, but the second edition in 2001 did not. However, death rates did not drop; on the contrary, they began to rise. The death count was the highest of all hospitals in the region.
During her first winter at Scutari, 4,077 soldiers died there. Ten times more soldiers died from illnesses such as typhus, typhoid, cholera and dysentery than from battle wounds. Conditions at the temporary barracks hospital were so fatal to the patients because of overcrowding and the hospital's defective sewers and lack of ventilation. A Sanitary Commission had to be sent out by the British government to Scutari in March 1855, almost six months after Florence Nightingale had arrived, and effected flushing out the sewers and improvements to ventilation. Death rates were sharply reduced. During the war she did not recognise hygiene as the predominant cause of death, and she never claimed credit for helping to reduce the death rate.
Nightingale continued believing the death rates were due to poor nutrition and supplies and overworking of the soldiers. It was not until after she returned to Britain and began collecting evidence before the Royal Commission on the Health of the Army that she came to believe that most of the soldiers at the hospital were killed by poor living conditions. This experience influenced her later career, when she advocated sanitary living conditions as of great importance. Consequently, she reduced deaths in the army during peacetime and turned attention to the sanitary design of hospitals.
During the Crimean war, Florence Nightingale gained the nickname "The Lady with the Lamp", deriving from a phrase in a report in The Times.
Related Links:
Florence Nightingale on Wikipedia
Florence Nightingale Museum