Fired Female Editor Fights Back With Lawsuit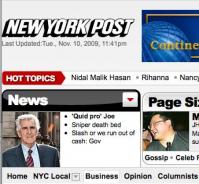 Susan notes: According to Wikipedia, The New York Post is the 13th oldest newspaper in the United States, and the sixth largest by circulation. It's owned by media mogul Rupert Murdoch's News Corporation.
The New York Post editor fired after speaking out against a cartoon depicting the author of the president's stimulus package as a dead chimpanzee has sued the paper. And as part of her complaint, Sandra Guzman levels some remarkable, embarrassing, and potentially damaging allegations.
Guzman has filed a complaint against News Corporation, the New York Post and the paper's editor in chief Col Allan in the Southern District Court of New York, alleging harassment as well as "unlawful employment practices and retaliation."
As part of the 38-page complaint, Guzman paints the Post newsroom as a male-dominated frat house and Allan in particular as sexist, offensive and domineering. Guzman alleges that she and others were routinely subjected to misogynistic behavior. She says that hiring practices at the paper -- as well as her firing -- were driven by racial prejudices rather than merit
According to the complaint:
"On one occasion when Ms. Guzman and three female employees of the Post were sharing drinks at an after-work function. Defendant Allan approached the group of women, pulled out his blackberry and asked them 'What do you think of this?' On his blackberry was a picture of a naked man lewdly and openly displaying his penis. When Ms. Guzman and the other female employees expressed their shock and disgust at being made to view the picture, Defendant Allan just smirked... [N]o investigation was ever conducted and the Company failed to take any steps to address her complaints."
Read the full Huffingtom Post article by Sam Stein here.
Related links: