Female Horn Player Makes Brass Band History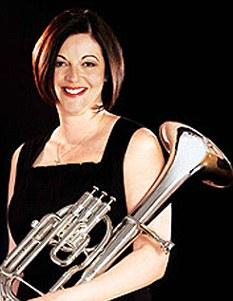 The colliery band that inspired the hit film Brassed Off is to field a female musician in competition for the first time in its 93-year history – 14 years after the same thing happened in the movie.
The Grimethorpe Colliery Band has recruited Sheona White, an internationally acclaimed horn player, for the British Open competition in Birmingham in September.
Miss White, a former BBC Radio 2 Young Musician of the Year who performed on the chart-topping 1997 BBC charity single Perfect Day, is the first woman to play for the South Yorkshire band in a musical competition.
Until now, women have joined the ranks of the 28-strong band only for non-competitive concerts.
Miss White, who is head of music at Lowton High School in Warrington, approached the band when she heard they were finding it difficult to find a horn player for the competition.
Terry Webster, the band's manager, said: 'We are delighted that Sheona has joined our ranks because she is a wonderful musician.'
The Grimethorpe Colliery band was formed in 1917.
Click here to read the full story:
Daily Mail
Related links:
More About Music on AWR