Felisa Wolfe-Simon (Biologist/Biogeochemist)
Susan notes: Felisa Wolfe-Simon is one of 15 amazing women on stage at #TED2011. We're working hard to get TED to work harder on gender parity. ADD YOUR VOICE HERE.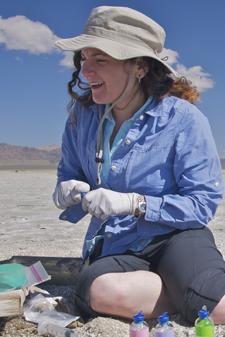 Felisa Wolfe-Simon is an American microbial geobiologist and biogeochemist.
She is a NASA research fellow in residence at the US Geological Survey and a member of the NASA Astrobiology Institute, Wolfe-Simon led a team that discovered GFAJ-1, an extremophile bacterium that they claimed is capable of substituting arsenic for a small percentage of its phosphorus and sustain its growth.
Wolfe-Simon did her undergraduate studies at Oberlin College and completed a Bachelor of Arts in Biology and Chemistry and a Bachelor of Music in Oboe Performance and Ethnomusicology at the Oberlin Conservatory of Music.