Family Tradition Pays the Bills
By Susan Macaulay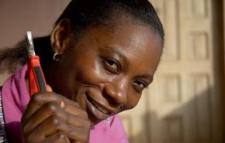 When she was 16, Gladys Adjimer went through the traditional ritual of Dipo, where girls don ceremonial dress and beads, and dance and eat nothing but water and yam for up to four days as part of their initiation into Krobo womanhood.
This may have marked the beginning of her love of beadwork, cosmetics and jewelry.
Gladys was training to be a hairdresser, but when her mother became ill she had to help out with the family business instead. After she left school at the age of 18, Gladys went to work for her mother Grace Joe, a bead-maker who is part of the
Global Mamas
network in Ghana.
Gladys likes cosmetics, so after a few years of working at her mother's bead workshop she tried selling make-up door-to-door. She still earns some money this way, but, as it's not regular income, she decided to follow in her mother's footsteps and make jewelry for
Global Mamas
.
About 90 per cent of Gladys' earnings now come from her jewelry making. With them, she helps to pay her mother's medical bills and to support her brother, a trainee mechanic who lives away from home.
In the tradition of her native Krobo, Gladys has taken the name of her father who works as a fisherman on nearby Lake Volta, the largest man-made lake in the world.
Click here to see and buy some of the products made by Gladys.