Emma Taylor (Changent/Volunteer)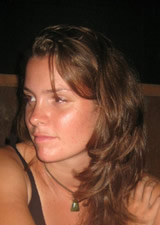 In 2007 I graduated college. I wasn't quite sure what I wanted to do - all I knew is that I didn't want to start a 9 -5 immediately.
So I worked 100 hours a week for three months and used that money to buy a one way ticket to Argentina.
I thought I would travel for a few months and then go home to start my "real life". Instead, I found a whole new real life.
After a few months on the road in Argentina, Bolivia, and Peru, I thought I might spend a couple of weeks checking out a volunteer project I'd heard about in the city of Pisco, Peru. Pisco was devastated by an 8.0 earthquake in August 2007.
It was a life changing experience. Within several weeks on the ground I was saving family photos from demolished houses, tutoring local students in English, and leading a crew of more than thirty.

And so, my "several weeks" turned into nine months of demolishing damaged buildings and clearing rubble, building a house, bathroom, and eventually leading the construction of a school.

After years of studying and having a world that centered around good grades and making the next step, I suddenly found myself making a real difference in the lives of others. While other volunteers came and went, I found that I couldn't leave. I was hooked.

It was in Pisco that I met the group that would eventually found European Disaster Volunteers. Our decision to split from the groups which we worked with in Peru was simple: While their work was excellent, the community didn't have much of a say in what happened.
Our projects happened to survivors rather than with them. We wanted to change that, so we founded EDV.

Today, I live in Port au Prince running EDV's deployment. I spend my days working with disaster survivors to help them develop their ideas and become more self-sufficient.
An average week could include helping new volunteers develop sanitation trainings to fight cholera on Monday, reviewing transitional classroom plans on Tuesday, and teaching on Wednesday. Different projects all in partnership with disaster survivors and all part of sustainable disaster recovery.

Here in Haiti, everything is an adventure. And that's what I'll write about here – my experiences of the challenges and adventures that come along with working in partnership with earthquake affected communities. I hope you'll keep checking back and come along for the ride.
Related links:
Emma Taylor on Changents
@EDVMedia