Emiratweet Co-founders Shine at TEDxAjman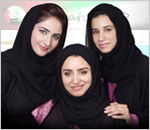 Emiratweet is the first Emirati online social community (virtual mails) for the Emirati community by Emiratis.
It uses social media platforms to maintain and preserve the national identity of United Arab Emirates by providing information, facts, and news about Emirati individuals and society.
Its founders Heba Al Samt, Hanan Huwair, and Ayesha Al Janahi, three young UAE National women, want and Emiratweet to be the gateway that connects the world to the Emirati community, and the voice and channel for Emiratis toreach out, engage, expose and unveil themselves to the world.
They also want to contribute to the society and the Emirati community, to help preserve, maintain, and sustain their cultural identity and traditions, and create an authentic, reliable source and reference to UAE life and history.
Al Samt, Huwair, and Al Janahi spoke about the origin and mission of Emiratweet at TEDxAjman in April, 2011.
Susan notes: Thanks to TED for making TED Talks downloadable and embeddable, and for providing the biographical information that goes along with them.
Related Articles