Emirati Sexpert Subject of NY Times Article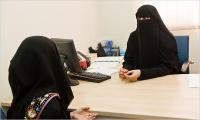 Wedad Lootah may not be the Arab/Muslim equivalent of world famous sexpert
Dr. Ruth Westheimer
yet, but she has achieved some notoriety in the United Arab Emirates with the recent publication of her book "Top Secret: Sexual Guidance for Married Couples."
Ms Lootah, one of nine children born to an illiterate water-seller in Dubai, married early and taught elementary school for years before becoming a marriage counselor attached to the Dubai courts, a job she has done for the past eight years.
A New York Times online article reports:
…she is also the author of what for the Middle East is an amazingly frank new book of erotic advice in which she celebrates the female orgasm, confronts taboo topics like homosexuality and urges Arabs to transcend the backward traditions that limit their sexual happiness.

The book, "Top Secret: Sexual Guidance for Married Couples," is packed with vivid anecdotes from Ms. Lootah's eight years as a marital counselor in Dubai's main courthouse. It became an instant scandal after it was published in Arabic in the Emirates in January, drawing praise from some liberals and death threats from conservatives, who say she is guilty of blasphemy or worse.

Click here to read the full story
By Robert F. Worth
New York Times
Photo credit:
Bryan Denton for The New York Times
Related links:
Emirati Writer of Top Secret Honoured