Emirati Fashion Photographer Holds Second Solo Exhibition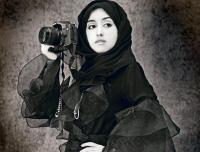 Emirati fashion photographer Fatma Abdullah's second solo exhibition opens Sunday June 7 and runs until the end of the month at Wafi's Khan Murjan Gallery in Dubai.
Ms Abdullah, who has been fascinated by photography since early childhood, obtained a Higher Diploma in Communication Art from Higher Colleges of Technology in 2001 and, in 2003, established her own photography company, Lady Design.
"Woman is always the centre of my attention, her tears, her weakness, her incomplete joy and her unexplainable emotions," says Ms Abdullah.
"I've always felt my camera can speak on my behalf ­- it interprets my feelings effortlessly and delivers my messages accurately."
To RSVP to the show opening, visit the
Lady Design facebook page
.
Click here to read a Gulf News profile
by Fatma Salem
Related links:
www.Lady-Design.com
https://lady-design.blogspot.com/