Emily Jackson (Kayaking Philanthropist)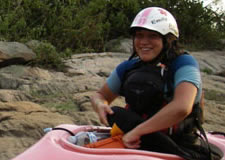 "You have to be the change you see in the world."

It's one of the most famous Ghandi quotes.
I am doing my best daily to try and be the change I see. I see a lot of things, from an athlete's perspective and as a philanthropist.
As far as my athleticism goes, I would like to see women freestyle kayakers be competitive with the men. That's why this September I won the 2009 World Freestyle Kayak Championship.
I'm pushing the bar one step at a time. Kayaking gives me everything… which is why I see the need to give back.
I started really giving back when I was 15 years old. I had just won two major kayaking events and because I was only 15, I had no real need for the money.
Sure many things crossed my mind, think of how many shoes you can buy with $5,000!! But then I sat down and spoke with my great family friend Jessie Stone and she said, come to Uganda, see how much of an impact you can make with that money over there.
My parents were supportive of me donating it all along, but now I had the door and the key! It was time to go to Africa. I had been to Africa before when I was 9 so I knew what to expect as far as the culture goes but I didn't know what to expect when it came to how much positive change I could create.

I had given Jessie the money and had it split into two groups, Soft Power Health and Soft Power Education. I figured I wanted to help both so I would... $2,500 went into paying a doctor to work at the Health Clinic we just finished building and the other $2,500 went into refurbishing a school.
When I got there and saw how much change I had caused that small town by doing what I love, I was sold. Now 4 years later and a total of $25,000 raised personally, I am always thinking of how I can apply a soft change, nothing huge, nothing dramatic, just what can I do slowly, softly and effectively, to help provide these people in Uganda with a better life.

You can also find me in New York City helping inner city kids learn how to kayak and exposing them to great outdoors. I have found that to give back all over, you don't have to go anywhere to make the change. You just have to be the change....
Related links:
Emily Jackson on Changents
@EmilyKayak