Elizabeth Warren (Consumer Advocate)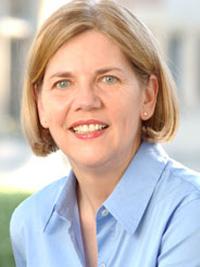 Elizabeth Warren (born June 22, 1949) is the senior United States Senator from Massachusetts and a member of the Democratic Party. She was previously a Harvard Law School professor specializing in bankruptcy law.
Warren is an active consumer protection advocate whose work led to the conception and establishment of the U.S. Consumer Financial Protection Bureau. She has written a number of academic and popular works, and is a frequent subject of media interviews regarding the American economy and personal finance.
In the wake of the 2008-9 financial crisis, she became the chair of the Congressional Oversight Panel created to investigate the U.S. banking bailout (formally known as the Troubled Assets Relief Program).
She has long advocated for the creation of a new Consumer Financial Protection Bureau which is now part of 111th United States Congress HR 3126.

On April 12, 2010, CNN reported that Warren's was among additional names being considered as Supreme Court nominees to replace retiring Justice John Paul Stevens.
On May 24, 2010, Time Magazine called Warren, Federal Deposit Insurance Corporation Chairman Sheila Bair, and Securities and Exchange Commission Chairman Mary Schapiro the "New Sheriffs of Wall Street" in a cover story.
On September 17, 2010, she was named a special adviser by President Obama to oversee the development of the new Consumer Financial Protection Bureau. Her position will include the responsibility of recommending a director for this new entity, although it is unclear whether Warren herself will be considered for the position.
Warren was born and raised in Oklahoma where she was a state champion debater at age 16. She married Jim Warren at age 19, and transferred from George Washington University to the University of Houston, where she graduated with a B.S. in 1970. In 1976 she received her J.D. from Rutgers Law—Newark, where she served as an Editor to the Rutgers Law Review and was one of two female summer associates at Cadwalader, Wickersham & Taft's Wall Street office. After law school, Warren worked from home, writing wills and doing real estate closings for walk in clients. She divorced Warren in 1978, and later married Bruce Mann.
She joined Harvard Law School in 1992 as the Robert Braucher Visiting Professor of Commercial Law. Prior to Harvard, she was the William A. Schnader Professor of Commercial Law at University of Pennsylvania School of Law and also taught at the University of Texas School of Law, University of Houston Law Center, University of Michigan and Rutgers Law School.
From 2005-2008, Warren and her law students wrote a blog called Warren Reports, part of Josh Marshall's TPMCafe.
Warren appeared in the documentary film Maxed Out in 2006, has appeared several times on Dr. Phil to talk about money and families, has been a guest on The Daily Show, is interviewed frequently on cable news networks, appears in Michael Moore's Capitalism: A Love Story, and has appeared on the Charlie Rose talk show.
Warren is a member of the FDIC's Committee on Economic Inclusion and the Executive Council of the National Bankruptcy Conference. She is the former Vice-President of the American Law Institute and a member of the American Academy of Arts and Sciences. She served as the Chief Adviser to the National Bankruptcy Review Commission.
Warren is married to Bruce Mann, a legal historian and law professor also at Harvard Law School. She has a daughter, Amelia Warren Tyagi, with whom she has coauthored two books and several articles, and a son, Alexander Warren. She is an ex-Sunday School teacher and cites Methodist John Wesley as an inspiration.
In addition to writing more than 100 scholarly articles and six academic books, Warren has written several best-selling books. Her most recent book, coauthored with her daughter, is All Your Worth: The Ultimate Lifetime Money Plan.
Warren is also the co-author (with Tyagi) of The Two-Income Trap: Why Middle-Class Mothers and Fathers Are Going Broke (Basic, 2003) (ISBN 0-465-09082-6). Warren and Tyagi point out that a fully employed worker today earns less inflation-adjusted income than a fully employed worker did 30 years ago.
To increase their income, families have sent a second parent into the workforce. Although families spend less today on clothing, appliances, and other consumption, the costs of core expenses like mortgages, health care, transportation, child care, and taxes have increased dramatically. The result is that, even with two income earners, families no longer save and have incurred greater and greater debt.
On November 14, 2008, Ms. Warren was appointed by United States Senate Majority Leader Harry Reid to chair the five-member Congressional Oversight Panel created to oversee the implementation of the Emergency Economic Stabilization Act. The Panel releases monthly oversight reports that evaluate the government bailout and related programs.
The Panel's monthly reports have covered foreclosure mitigation, consumer and small business lending, commercial real estate, AIG, bank stress tests, the impact of TARP on the financial markets, government guarantees, the automotive industry, and many other topics. The Panel has also released special reports on financial regulatory reform and farm loans. For each report, Warren releases a video on the Congressional Oversight Panel's website explaining key findings. All reports and videos are available at cop.senate.gov.
In her role as Chair of the Panel, Warren has testified many times before House and Senate committees on financial issues.
Related Articles