Elaine Morgan Says We Evolved From Aquatic Apes
Susan notes: Thanks to TED for making TED Talks downloadable and embeddable, and for providing the biographical information that goes along with them.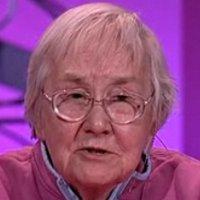 Elaine Morgan is a tenacious proponent of the aquatic ape hypothesis: the idea that humans evolved from primate ancestors who dwelt in watery habitats. Hear her spirited defense of the idea -- and her theory on why mainstream science doesn't take it seriously.
Television writer and scientific theorist Elaine Morgan may be known for penning the popular TV series Dr. Finlay's Casebook, but for decades the Welsh feminist writer has championed human evolutionary theories using aquatic species. She has authored six books about the Aquatic Ape Theory, derived from ancient Greek philosophies about human evolution.
Taking a less male-centric approach to evolutionary theory, Morgan's adventure was chronicled in the 1998 BBC documentary The Aquatic Ape. Morgan is well respected in both the scientific and entertainment worlds. She's an award-winning television writer (she won two BAFTAs and Writers' Guild honors) for Campion, How Green Was My Valley and Testament of Youth.
Related Articles