Educate Girls! It's the Smart Thing To Do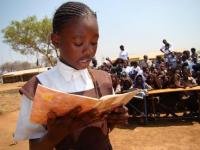 Sending more girls to school may help poor countries get out of the economic slump faster, the NGO Plan International says in a new report. Just a one percent rise in the number of girls attending secondary school boosts a country's annual per capita income growth by 0.3 percent.
Girls are a formidable future workforce - if they get adequate training. There are over 500 million adolescent girls and young women in developing countries, Plan estimates in its report 'Girls in the Global Economy: adding it all up'. But many girls do not have the opportunities for good education, and the financial crisis is worsening their situation.
The information available suggests that investing more in girls is a good way out of poverty. "Countries with the lowest number of girls in education lie at the bottom of the human development rankings," says Nikki van der Gaag, co-author of the report.
Investing in education promises an attractive return. "An extra year of education increases a girl's income by 10 to 20 percent; it is a significant step in breaking the cycle of poverty," the report says.
Click here to read the full story:
By Peter Dhondt
Inter Press Service News
Related links:
Lagging Education for Girls Contributes to Guatemala's Problems
Plan's Worldwide "Because I'm A Girl" Campaign Needs Our Support
Help Plan International Support Girls & Women
Girls & women need more education