Edith Wharton (Writer/Designer)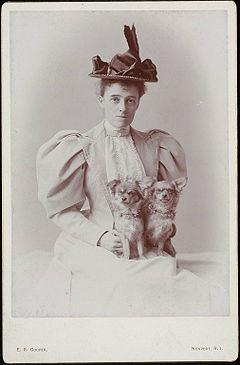 Edith Wharton, born Edith Newbold Jones (January 24, 1862 – August 11, 1937), was a Pulitzer Prize-winning American novelist, short story writer, and designer.

Wharton was born to George Frederic Jones and Lucretia Stevens Rhinelander. She had two brothers, Frederic Rhinelander and Henry Edward.
The saying "Keeping up with the Joneses" is said to refer to the family of her father. She shared a lifelong friendship with her Rhinelander niece, renowned landscape architect Beatrix Farrand, at 'Reef Point', in New York City and often together with Henry James in Europe.

Wharton combined her insider's view of America's privileged classes with a brilliant, natural wit to write humorous, incisive novels and short stories of social and psychological insight. She was well-acquainted with many of her era's other literary and public figures, including Henry James and Theodore Roosevelt.
In 1885, at 23 years of age, she married Edward (Teddy) Robbins Wharton, who was 12 years her senior. From a well-established Boston family, he was a sportsman and a gentleman of her social class and shared her love of travel, although they had little in common intellectually.
From the late 1880s until 1902 he suffered acute depression and the couple ceased their extensive travel. At that time his depression manifested as a more serious disorder, after which they lived almost exclusively at the Mount. In 1908 her husband's mental state was determined to be incurable and she divorced him in 1913. In 1908 she began an affair with Morton Fullerton, a journalist for The Times in whom she found an intellectual partner.

In addition to novels, Wharton wrote at least 85 short stories. She was also a garden designer, interior designer and lifestyle taste-maker of her time. She wrote several design books including her first published work, The Decoration of Houses of 1897, co-authored by Ogden Codman Another is the generously illustrated Italian Villas and Their Gardens of 1904

The Age of Innocence (1920) won the 1921 Pulitzer Prize for literature, giving Wharton the honor of being the first woman to win the award.

Wharton was friend and confidante to many gifted intellectuals of her time: Henry James, Sinclair Lewis, Jean Cocteau and André Gide were all guests of hers at one time or another. Bernard Berenson and Kenneth Clark were valued friends as well. Her meeting with F. Scott Fitzgerald is described by the editors of her letters as "one of the better-known failed encounters in the American literary annals". She was also good friends with Theodore Roosevelt. She spoke fluent French as well as several other languages and many of her books were published in both French and English.

In 1934 Wharton's autobiography A Backward Glance was published. In the view of Judith E. Funston, in the entry she wrote for American National Biography about Wharton, "What is most notable about A Backward Glance, however, is what it does not tell: her criticism of Lucretia Jones [her mother], her difficulties with Teddy, and her affair with Morton Fullerton, which did not come to light until her papers, deposited in Yale's Beinecke Rare Book Room and Manuscript Library, were opened in 1968."
Related Articles