Eddi Reader On "What You've Got"
Susan notes: Thanks to TED for making TED Talks downloadable and embeddable, and for providing the biographical information that goes along with them.
Some TED "Talks" aren't talks at all, they're questions, answers, songs, pieces of art, celebrations, and/or performances. This one is all of those rolled into one...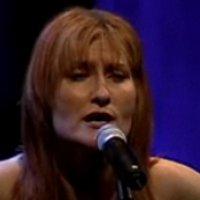 Singer/songwriter Eddi Reader performs "What You Do With What You've Got," a meditation on a very TED theme: how to use your gifts and talents to make a difference. With Thomas Dolby on piano.
Scotland-born Eddi Reader was an '80s pop star in the UK, where her band Fairground Attraction had a #1 hit with the supercatchy "Perfect." Now, as a solo artist, her sounds has matured; quiet acoustic arrangements and gentle harmonies put her lush voice front and center. TED Music Director Thomas Dolby calls her his favorite singer of all time.
Albums such as Candyfloss and Medicine and Angels & Electricity established her as a thoughtful songwriter and interpreter, with an affinity for wistful songs of longing and loss -- and a nice sideline in what used to be called "message" songs, which call to the listener to think about war and peace, the Earth and our place in it.

Reader has also become a noted interpreter of the poems of Robert Burns. Her latest album, Peacetime, offers a compelling mix of Burns lyrics, traditional folk tunes and new songs written by Reader and her longtime songwriting partner, Boo Hewerdine. Fun fact: The title song on the album, "Peacetime," Eddi first learned backstage at her 2003 TED performance.
Related Articles