Dr. Eva Andersson-Dubin (Former Model/Physician/Cancer Survivor)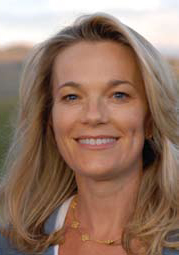 A former Ford model who continued working to pay her way through medical school, Dr. Eva Dubin earned her bachelor's degree with honors from Ostraboschool in Sweden.
She went on to study medicine at Karolinksa Institute School of Medicine in Stockholm, and then at UCLA School of Medicine, where she received her MD.
She completed her medical residency at Lenox Hill Hospital and is currently a physician at NBC's medical clinic in New York.
When was told that she had breast cancer, it was like her whole world shut down.
But she was better prepared to cope than most people who receive a cancer diagnosis, as her medical training gave her the ability to expertly evaluate the treatment options available to her.
She set about on a months-long quest to identify the best medical care, and decided to be treated at Mount Sinai. After Mount Sinai helped her win her battle against breast cancer, Dr. Dubin was determined to do more to help other women in the same situation.
She and her husband Glenn Dubin, a Mount Sinai Trustee since 2004, envisioned creating a center where all the services that a breast cancer patient needs could be found under one roof. As a clinician and breast cancer survivor, Dr. Dubin had a key leadership role in the project.
Eva's unique perspective on breast cancer has been integral to shaping the vision that led to the creation of the Dubin Breast Center at The Mount Sinai Medical Center.
She has been involved every step of the way; from helping to fundraise, selecting the most calming images to hang on display throughout the hallways of the center, and even physically moving furniture around until everything looked just right for the patients.
Dr. Dubin is a true inspiration to all women with her positive attitude and motivating accomplishments– especially those who are touched personally by breast cancer. To learn more about Eva's vision, visit: leadershiptocure.com