Dr Catherine Zahn Speaks at TEDxToronto
Susan notes: Thanks to TED for making TED Talks downloadable and embeddable, and for providing the biographical information that goes along with them.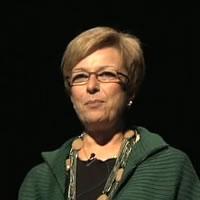 Dr. Zahn joined the Centre for Addiction and Mental Health (CAMH) as President and Chief Executive Officer in December, 2009.

Prior to this appointment, she was Executive Vice President, Clinical Programs and Practice, at the University Health Network.

An honours graduate of the Faculty of Medicine at the University of Toronto (U of T), she is a Fellow of the Royal College of Physicians and Surgeons of Canada (Neurology) and a Professor in the U of T Faculty of Medicine.

She is a Fellow of the American Academy of Neurology and is internationally recognized for her contributions to neurologic education and to standards of practice in neurology.
Dr. Zahn has contributed to health care in Ontario through leadership in technology assessment, chronic disease management and stroke care coordination. She continues to practice in her area of clinical and academic interest, epilepsy and women with epilepsy.
Related Articles