Despised And Destroyed Because She Is A Dalit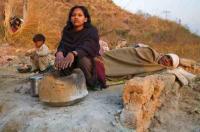 Bindu, a dalit from the Deha, an especially despised nomadic caste, sits with her grandmother in what is left of their home. She had incurred the wrath of the local upper castes by refusing an offer from the son of the town leader of 50 rupees (about $1) for sex. So their house was torched and their belongings thrown into the river.
India's daily injustices are daunting. But they are being confronted. V
olunteers for Social Justice (VSJ)
, a group devoted to freeing people from bondage. It has brought the release of some 30,000 since it was founded in 1985.
This image taken by UK politician Pete Pattison is from a photo essay in The Economist on slavery in modern-day India, where poor people may not be in chains, but they are shackled by debt, paid virtually nothing and treated harshly.