Cynthia Carroll (Chief Executive)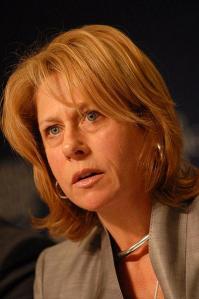 Cynthia Carroll is an American businesswoman. She is the chief executive officer of Anglo American PLC, a London, UK mining company, which, among other things, is the world's largest platinum producer.
On October 24, 2006, Carroll was hired by Anglo American, and joined the board in January 2007, becoming chief executive at the beginning of March 2007. She chairs Anglo American's Executive Committee and sits on the Safety and Sustainable Development Committee. She is one of only three female Chief Executives of FTSE 100 companies and the first non-South African to hold the post with Anglo American.
In 2008, she was ranked by the magazine Forbes as the fifth most powerful woman in the world. She was ranked fourth by the same list in 2009.
Related Links:
Wikipedia
The World's Most Powerful Women 2009