Courtney Montague (Changent/fundraiser)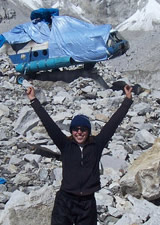 Eat So They Can is an exciting global fundraising initiative launched by the GVN-Foundation in 2007 to coincide with the UN's World Poverty Day.
GVN-Foundation is a non-profit organisation dedicated to providing financial assistance to communities in need around the world.
We believe that local communities are in the best position to determine their needs, and we provide resources to help them achieve their goals.
While GVN Foundation is committed to helping children break free from child poverty all around the world, Eat So They Can will specifically focus on the plight of the children in Africa.
In Kenya, 52% of the population live below the poverty line and 22.8% live on less than US $1 a day.
Every day, 25,000 people die because of hunger; 18,000 of them are children.
We want to change this.
Eat So They Can is not another humanitarian campaign asking people to go without - we believe there are already too many people suffering through want of food. Instead, we invite individuals from around the globe to host a meal on October 17th, 18th or 19th 2008 and each of the host's guests makes a donation. You can choose which type of meal you want to host - breakfast, brunch, lunch, dinner and help us raise awareness as well as funds.
We believe something as simple and enjoyable as sharing a meal with friends and family can make a difference to the thousands of children battling extreme poverty and hunger each day.
The money raised from these events held across the globe will be used to support our partner organisations throughout Africa that continuously work to end child poverty. The inaugural event last year raised $37,000USD, this year we will go bigger and better with your help.
We cannot fight global hunger and poverty alone, please back us and join the movement to end child poverty!
Come and break some bread with us, it would be great to have you on our team.
Related links:
Courtney Montague on Changents
Eat So They Can